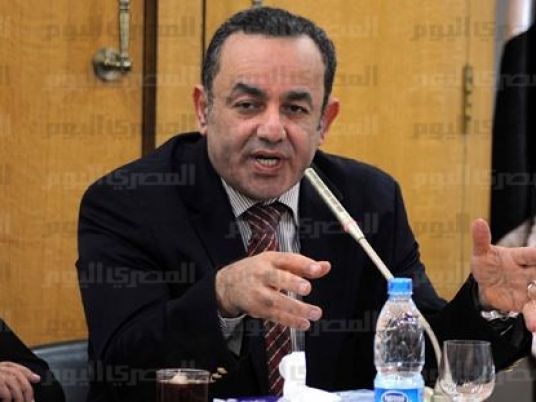 The head of Al-Ahram Center for Political and Strategic Studies Amr al-Shobky expressed astonishment Wednesday that the final court ruling he recently obtained was not being implemented.
The ruling entitles him to the parliament's membership, replacing Ahmed Mortada Mansour, son of Zamalek Club Chief and lawyer Mortada Mansour. Shobky told Al-Watan newpaper he is "not sure who backs Mortada Manour" against the law.
"Mortada Mansour met with parliamentary speaker Ali Abdel Aal for hours after which Mansour came out (of the meeting room) and directed a barrage of insults against me and a number of other MPs and threatened us in statements to journalists," Shobaky told Al-Watan.
"We were surprised later that the implementation of the court ruling was postponed," he added.
"I do not know exactly what Mansour has told the parliamentary speaker and I have no explanation for why the ruling has not been implemented until now despite being final," Shobky added, pointing out that the parliament has not officially contacted him to be sworn in.
Shobky's lawyer, Essam al-Islambouly, said disregarding a court's final ruling is "very suspicious."
The Legislative Committee of the House of Representatives issued a report upon the court ruling entitling Shobky to membership in parliament and annuling Mansour's membership, said MP Alaa Abdel Moneim, stressing that the ruling would be implemented.
Abdel Moneim ruled out the possibility of parliamentary vote on the court ruling, saying that this would be a meddling of powers between the judiciary and the parliament, which does not have the right to object to court rulings.
Meanwhile, the Court of Cassation referred to the top prosecutor's office on Monday evening a claim filed by Shobky against Mansour over libel.
Shobky's lawyer Mohamed Waly said the claim was accompanied by three CDs showing Mansour libeling and insulting Shobky on Al-Mehwar and Al-Assema satellite channels.
Islambouly, another member of the Shobky defense team, commented that since the court canceled the parliamentary membership of Mansour, his father has been attacking Shobaky harshly, along with the court which issued the ruling and Shobky's lawyer.
In July, Shobky won the right to represent the Dokki and Agouza constituency in parliament, replacing current MP Mansour, based on an official recount of votes cast in last year's parliamentary elections.