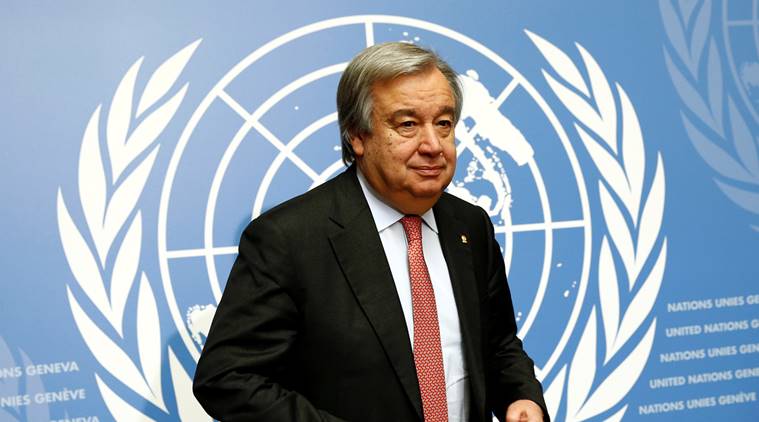 The Secretary General of the UN, António Guterres, held a global press conference in front of Egypt's Rafah crossing, on Friday, to follow up on preparations for the entry of trucks loaded with food and medical aid into the Gaza Strip.
Below are the most prominent statements he made:
Two million people are suffering greatly from severe shortages of food, medical supplies and fuel, and they are under fire, although many trucks loaded with water, food, and fuel are at the Rafah crossing.

Trucks loaded with food and medical aid currently at the Rafah crossing must enter the Gaza Strip as soon as possible, to save the lives of those affected by the current events in the Strip. We desperately need these trucks to enter as quickly as possible and in the largest possible quantity.

Communication is currently underway with all parties (Egypt, Israel, and the US) to remove the conditions that obstruct the entry of aid into Gaza.

There must be a continuous effort. We are not waiting for one convoy, but rather multiple convoys, to enter Gaza on a daily basis, and to ensure that adequate support is provided to civilians in the Strip.

Egypt is a sovereign state, and the laws of Egyptian institutions such as the Egyptian Red Crescent must be recognized and respected in order to transfer aid to the Gaza Strip.

Immense humanitarian support is prepared for the people in Gaza, but unfortunately this is not a normal humanitarian operation, this is an operation in an active war zone. That's why we call for a ceasefire as a precondition for the delivery of humanitarian aid.

We do not want to punish civilians in Gaza twice; Firstly because of the war and secondly because of deprivation of humanitarian relief, so it is clear that a humanitarian ceasefire will facilitate things and make it safer for everyone.
Guterres expressed his gratitude to the Egyptian people and government, saying they are the "backbone" that will provide hope for Gaza and for transporting aid.
He hoped that one day peace will prevail, with a two-state solution, and that Palestinians will live with the Israelis in peace in two countries, side by side.