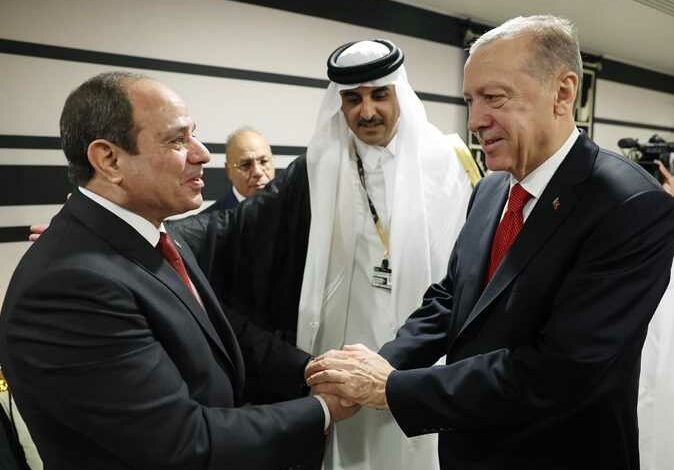 The director of Turkish Studies Unit at the Arab Center for Research and Policy Studies Mohamed Amer explained that Turkish President Recep Tayyip Erdogan is expected to continue building ties with Egypt after winning the Turkish presidential elections.
Expectations are swirling that following this election, Egypt and Turkey will reopen their respective embassies, with a potential summit meeting will be held between Presidents Abdel Fattah al-Sisi and Erdogan, Amer told journalist Khairy Ramadan on the Al Qahera wal Nas channel in a Sunday interview.
Amer quoted unidentified sources saying that Erdogan may visit Egypt in the near future.

Contentious issues will be set aside – such as Libya, the Turkish presence in northern Syria, and gas in eastern the Mediterranean Sea – to create a suitable environment for understanding and rapprochement, Amer noted

Sisi sent a message to Turkish President Recep Tayyip Erdogan congratulating him on winning the presidential election in Turkey for a new presidential term, the official spokesperson for the Egyptian Presidency, Ahmed Fahmy, said.
Erdogan on Sunday announced his victory over rival Kemal Kilicdaroglu in the run-off round in the 2023 Turkish elections in a conference held in Istanbul.
Preliminary results, after counting the majority of the votes, showed Erdogan garnered 52 percent of the vote, while his rival got less than 48 percent – a difference of two million votes.
The Supreme Elections Committee in Turkey has not yet announced the official final results.
Relations with Egypt stand strong
Back in March Turkish Foreign Minister Mevlut Cavusoglu thanked Egyptian Foreign Minister Sameh Shoukry for his visit to Turkey and his hope to continue exchanging visits between the two countries.
During a joint press conference with Shoukry, Cavusoglu also expressed his thanks to Egypt for the assistance it provided to his country after the earthquake, which reflects the solidarity between the two countries.
He described relations between Turkey and Egypt as "historic" with a basis in a common culture, stressing: "This is why we want to strengthen relations between the two countries, which of course needs help and support from Presidents Abdel Fattah al-Sisi and Recep Tayyip Erdogan."