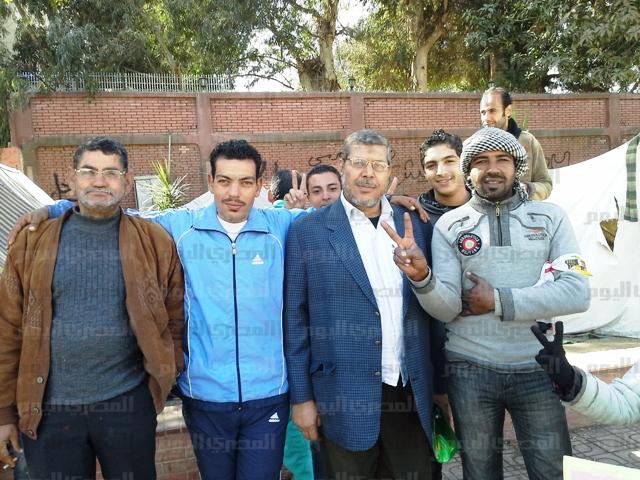 Protesters at the presidential palace in Heliopolis surrounded and attempted to beat a man Tuesday whom they suspected of being President Mohamed Morsy.
Astonished protesters flocked around Gamal Sayed, 56, whose visage reportedly bore an uncanny resemblance to the president's. Thinking they were confronting the president himself, protesters demanded his National Identity Card, while others attempted to pull him into a tent and beat him up.
Eventually, other protesters intervened, explaining that the president's doppelganger was in fact an ordinary citizen who was attempting to file a complaint with the presidential ombudsman.
After the man's true identity was revealed, the mood lightened, with protesters asking Sayed to pose for photos with them in front of the palace. Sayed happily agreed, at one point opening his jacket to mimic a famous photo shot of Morsy in Tahrir as he was demonstrating to supporters that he was not wearing a bulletproof vest.
Passers-by also began streaming over after protesters told them they could take a photo with the "president" for LE1, while policemen arrived at the site after hearing protesters say that they had "arrested the president."
"I did not think I resembled the president to that extent that the people would think I was him," said Sayed, adding that he was frightened when the protesters yelled "Morsy!" at him.
Asked why he came to the palace, Sayed said, "My right eye is completely blind and one of my legs is handicapped. I am 56 and have no source of income. I came here to ask for a kiosk anywhere, a bicycle cart or a pension."
Edited translation from Al-Masry Al-Youm