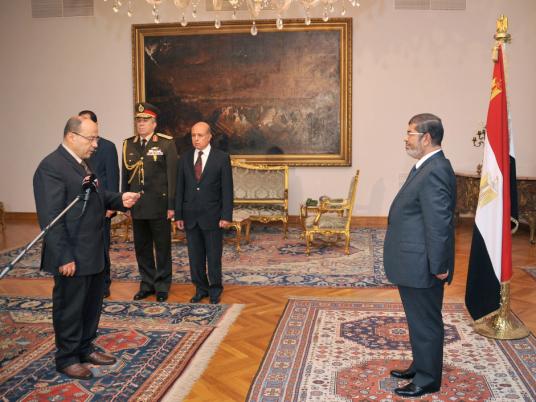 In a new challenge to President Mohamed Morsy, the Azbakiya Misdemeanor Court declined a case because it was referred to the court by the new prosecutor general, saying that he does not legally hold that position.
Last month, Morsy triggered controversy by issuing a decree in which he dismissed former Prosecutor General Abdel Meguid Mahmoud and replaced him with Talaat Ibrahim Abdallah.
The move was unprecedented in Egyptian legal history, since the constitution has always stipulated that the prosecutor general cannot be fired by the president.
Azbakiya Misdemeanor Court head Mahmoud Hamza said in his rationale that the prosecutor general was appointed under mysterious circumstances and that there are judicial challenges lodged against him, for which reasons the court does not recognize him and hence declines to consider the case.
The verdict was issued on Saturday. Notable law professor Nour Farahat posted the verdict on his Facebook page.
Many judges see Morsy's move to dismiss the former prosecutor general as illegal. They also see the appointment of Abdallah as an infringement on the judiciary.
The general assembly at the Damanhour First Instance Court also decided not to recognize Abdallah as prosecutor general on Tuesday.
Judge Mahmoud Hamza was among the judges who were assaulted during the 2005 parliamentary elections when he tried to uncover fraud within the committee he was supervising. His attackers carried him out of the committee in front of the police.
He was assaulted again in 2006 by two police officers dispersing a sit-in by activists and politicians outside the Judges Club.