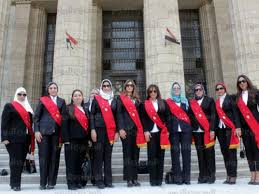 Egypt's State Council President Ahmed Abou Al-Azm said there was no constitutional prohibition to appointing women as judges in the State Council, adding that the State Council itself has no objection to the matter. However, he said the entire process was a "matter of time", as there are protocols that have to be followed to appoint women as state council judges, some of which include vacating suitable positions for women.
During a speech he gave at the International Conference of the Arab Union of Administrative Judiciary, Abou Al-Azm added that, at that point, Egypt is content with the number of female ministers in the current government, which is evidence that Egypt is keen on women participating in different fields.
On a similar note, ex-Minister of Communications Maged Othman said that giving the chance for women to have access to all leadership positions has become a priority of utmost importance, as it is a basic right for women.
Egypt has been taking many steps in the field of gender equality in leadership positions in recent years. The appointment of Egyptian females' in government leadership positions has been seeing a gradual increase since 2015.
Today, the current government has eight female ministers: Minister of Planning Hala El-Saeed, Minister of Investment and International Cooperation Sahar Nasr, Minister of Immigration and Egyptian Expatriate's Affairs Nabila Makram, Minister of Culture Inas Abdel Dayem, Minister of Social Solidarity Ghada Wali, Minister of Environment Yasmeen Fouad, Minister of Tourism Rania Al-Mashat and Minister of Health Hala Zayed.
Moreover, Egypt recently appointed two female governors: Beheira Governor Nadia Abdou, who was appointed in 2017, and Damietta Governor Manal Awad Mikhail, who became Egypt's first female Coptic governor in the most recent shuffle in 2018.
Women have also been taking positive steps in being an integral part of the judiciary system. In 2015, Egypt swore in 26 new female judges, the largest number to be sworn in since 2007, bringing the total number of female judges in the country to 80. In August 2018, 16 female Egyptian judges were promoted to higher judiciary positions.