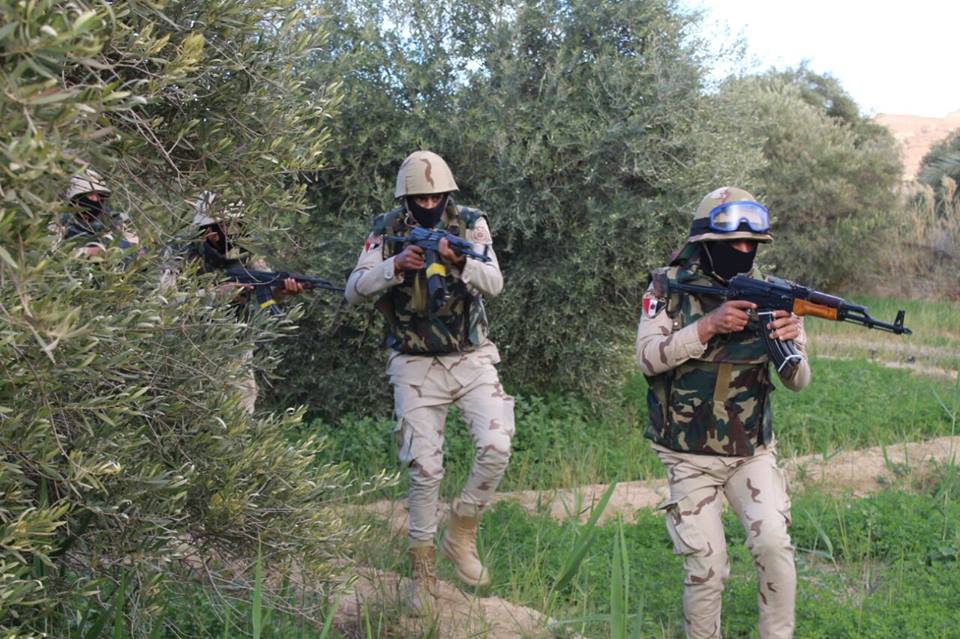 The Egyptian Armed Forces killed on Thursday 13 militants during a shootout that took place as sweeping operations of 'Sinai 2018' continued.
According to the 13th statement released from the army's official spokesperson since the comprehensive military operation began, nine stationing points used by militants were also destroyed in airstrikes.
The statement also said that 86 suspects were arrested and will be investigated by prosecution authorities.
Moreover, the army's ground forces were able to destroy two bombed vehicles used to target forces while executing sweeping operations. They 13 militants killed were seizing a number of weapons and satellite devices used to communicate with, according to the statement.
The statement further noted that 100 hideouts used by militants to store large quantities of weapons and bombs were destroyed, in addition to the controlled detonation of 10 Improvised Explosive Devices (IEDs) that were planted targeting forces during sweeping operations.
It confirmed that two army officers were killed during the shootout with militants, and a low-ranking army officer was injured.
In response to the increasing terrorist threat in North Sinai, the 'Comprehensive Operation Sinai 2018' was launched on February 9 by different branches of the army, including the Second and Third Field Armies located in Sinai.
An army source who preferred to remain anonymous told Egypt Independent on February 11 that "the number of forces participating in the 'Sinai 2018′ reached 35,000 [army personnel] with the support of Egypt's Special Forces and police."
The source added that "the operation aims to eliminate the presence of the Islamic State-affiliated (IS) Sinai Province. The widespread [distribution] of the Egyptian Armed Forces in the Sinai will leave no presence to a single militant."
Since 2014, North Sinai has witnessed a growing number of terrorist attacks carried out by IS the Sinai Province, including various attacks against the army and the police.
North Sinai-based state security has carried out large-scale security sweeps and military operations in response.