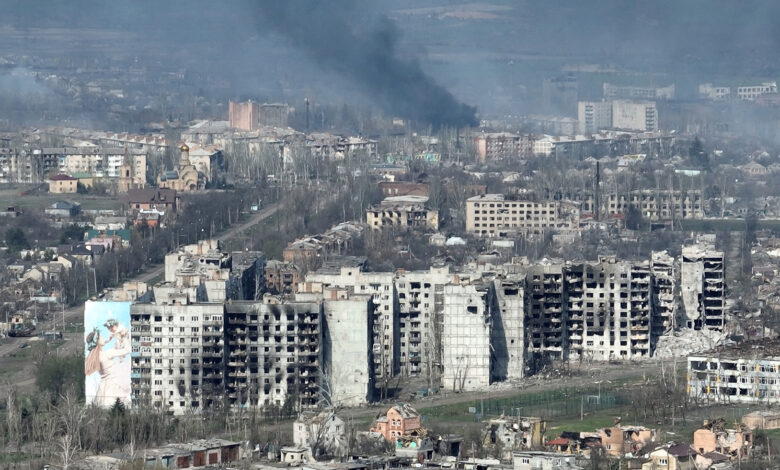 The embattled city of Bakhmut — currently the scene of the fiercest fighting between Russia and Ukraine's troops — has been rocked by nearly 100 shellings over the last 24 hours, a Ukrainian army spokesperson told CNN.
Some 30 firefights have taken place as both militaries wage street-by-street — and even house-by-house — battle for control of the city, said Serhii Cherevatyi, of the Eastern Grouping of the Ukrainian Armed Forces.
New video released by Ukraine's military illustrates the intensity of the fighting.
In one, Ukrainian soldiers from the 3rd Assault Brigade can be seen firing from a position inside a shattered first-floor apartment, its corner entirely blown away.
The constant sound of gunfire exchanges and explosions speaks to what Cherevatyi described yesterday as the "bloodiest of battles, unprecedented in recent decades."
Russia reports gains: Russia's Ministry of Defense claimed Sunday that Wagner mercenaries have captured two more blocks in the north and the south of Bakhmut, according to RIA Novosti. Units of Russia's Airborne Forces, the VDV, were providing support, the Defense Ministry added.
CNN is unable to independently verify the report, but the Institute for the Study of War in Washington, DC, appeared to back up the Russian claims, based on geolocated footage.
Russia targets supply route: Moscow's troops launched an assault Saturday on the town of Khromove, which lies along Bakhmut's main supply route from Chasiv Yar to the west, Cherevatyi said.
Logistics operations were not easy, the spokesperson told CNN, but they continued.
"We can still deliver ammunition, provisions, medicines, food, and take our wounded out. Of course it is difficult, but it is possible," he said. "Our artillerymen are engaged in counter-battery operations to prevent the enemy from constantly firing on the delivery routes."