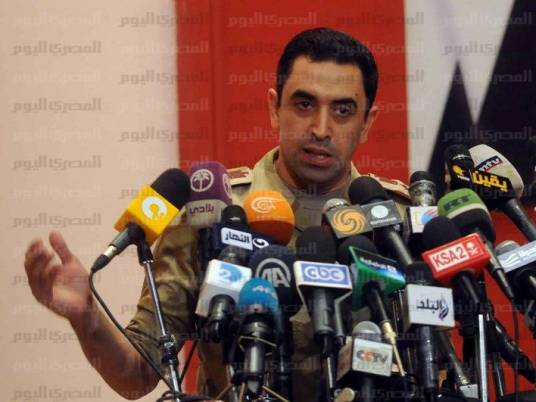 Ousted President Mohamed Morsy is not being detained by the army and is being well looked after, according to Colonel Ahmed Mohamed Ali, the official spokesperson for the Armed Forces.
The army has prioritized protecting the ex-president due to the instability witnessed on the Egyptian street, Ali said.
The military spokesperson denied that Morsy was in detention because he was not facing any judicial order to that end.
In an interview with Al Arabiya satellite channel, published on its website on Wednesday, the army spokesperson said that nobody will be excluded from Egypt's politics in the future. No one would be hunted down for their political opinions, he added.
Ali claimed that the army has no presence in politics because Egypt already has a president and a Cabinet. The army would concentrate on security Egypt and its borders, he said.
Asked about accusations that the Egyptian army had launched a coup to remove Mohamed Morsy from power, Ali said the military had carried out a national duty to satisfy the demands of the people.
More than 33 million Egyptians had demanded reform and the army simply responded to the call, he said.
Referring to the current security situation in Sinai, Ali said the army's campaign was continuing, as was the destruction of tunnels between the Sinai Peninsula and the Hamas-controlled Gaza Strip.
The Interior Ministry is cooperating with the army to restore security in Sinai, he added.
Edited translation from Al-Masry Al-Youm