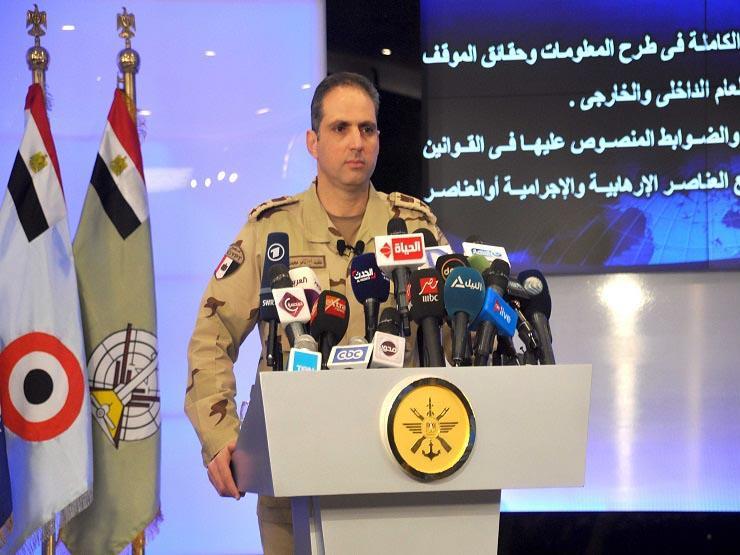 Official army spokesperson Tamer al-Refa'ai on Wednesday denied a report released by US-based NGO the Human Right Watch, which claimed that the Egyptian army had adopted an illegal wide scale demolition operation against farms and houses in North Sinai.
Al-Refa'ai told Egypt Independent that the Human Rights Watch report is not reliable and depends on undocumented and unofficial sources.
He further explained that the Egyptian Armed Forces are executing a president decree which stipulates establishing a buffer zone on the border of North Sinai and around the Al-Arish airport, while ensuring that appropriate compensations are given to residents housed there.
"The amount of the financial compensation given to these residents has reached LE900 million. Egypt's army is providing all the necessary food commodities and medical needs to everyone in the area impacted by these military operations," he stressed.
The Human Rights Watch recently released a new report on the ongoing military operation inside North Sinai conducted by the Egyptian Armed Forces against  militants of the IS affiliated group 'Sinai Province'.
The report stated that, as part of the ongoing army operation 'Comprehensive Sinai 2018', the Egyptian Armed Forces  had demolished a large number of buildings belonging to residents in North Sinai.
It added that this demolition operation reached hundreds of agriculture territories and more than 3000 buildings and shops; this demolition campaign is considered the biggest since 2014.
Egypt's government had identified two buffer zones to be established in the cities of Arish and Rafah, but the report claimed that "the destruction had gone beyond those areas and that most of them were illegal."
"The transformation of people's houses into ruins is part of the same security plan that has led to a tightening of food supply and mobility," said Sarah Leah Whitson, Middle East director at Human Rights Watch.
The Humans Right Watch accuses  Egyptian authorities of carrying out demolitions and forced evictions without judicial supervision and without adequate assistance for temporary housing, according to the report.
The Sinai 2018 military operation began on February 9, seeking to eliminate terrorism in the troubled Sinai region, which has been rocked by a low-intensive war between extremist Islamist militants and the state since 2013.
Since 2014, North Sinai has witnessed a growing number of terrorist attacks carried out by the Sinai Province, including various attacks against security forces.
North Sinai-based state security has carried out large-scale security sweeps and military operations in response.