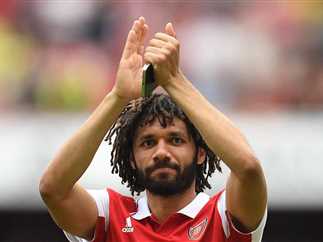 The Arsenal Club officially announced the renewal of the contract of Egyptian football player Mohamed al-Nenny, whose contract was due to expire in June 2022.
" We're delighted to announce Mo Elneny has signed a new deal," the Arsenal official account on Twitter said.
Arsenal did not reveal the duration of the contract.
"Almost seven years with Arsenal but they don't seem to be enough. I'm still learning, I'm still growing, and I want to do so much more for the team and the club I love… I'm very happy, proud and grateful for renewing my contract with Arsenal.. I'm staying home," Nenny commented on the contract renewal on his Twitter account.
Nenny joined Arsenal coming from Swiss champions FC Basel in January 2016.
He showed a distinguished performance in Arsenal's last matches, after the injury of midfielder Thomas Partey.
Nenny played 147 games with Arsenal, during which he scored five goals and assisted ten others.
He participated in 14 games with Arsenal this season in all competitions, during which he scored two goals.
Edited translation from Al-Masry Al-Youm