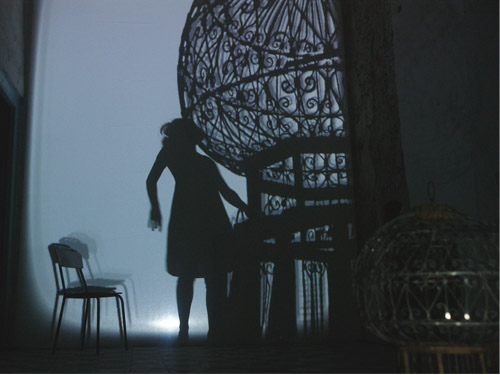 As they walked out from "I'm Nobody's Shadow" onto the streets of the ancient city of Tunis, audiences couldn't help but smile. The 20-minute long performance, shown in September as part of the Dream City biennale, was fun and stimulating for all those who attended. And that is essential to the Frinis' practice.
Marion Frini relates it to her "inability to be serious." And a quick look at Ghazi Frini's vimeo channel and VJing performances highlights his humor and playfulness. But the artistic duo is dead serious; they direct all their creative energy into experimenting with their once seemingly disparate practices, and reaching out to a wide audience. To them, humor is key.
The Frinis performed "I'm Nobody Shadow" in a small room on the top floor of an abandoned theater. Marion's shadow, along with live footage of her performing, appears on the screen playing around with the gigantic shadow of a birdcage and a chair. Occasionally, the chair would disappear from beneath her and so would the cage which she refuses to enter. With this, the duo was able to turn a much overworked theme, that of "Artists facing freedom," into an exciting experience for the group sitting in the room with the real birdcage at its center.
Marion explained later how some audience members told her they were looking for a marionette of her inside the cage lying in front of them, trying to grasp how they saw the cage and chair whose shadows were cast, but not her own although they could hear her footsteps as she moved.
"Part of our idea was to make the audience lose perception; how could there be a shadow of a body with no body?" explains Ghazi. "But eventually people get the trick and play along," adds Marion.
The Frinis are the first and, for now, the only artists in Tunisia mixing shadow theater, one of the oldest art forms, with one of the most recent, live Vjing. But, before they met in 2008 and began working together, their practices seemed quite unconnected.
Marion, a French artist from Lyon, has been dancing since her childhood, and gradually moved to the more improvisational side of performance with her interest in theater growing by the day. Ghazi, from Tunis, had experimented with sculpture and puppet making, marionettes and Shadow Theater, but dropped it all – at least temporarily – for the sake of video.
Being passionate about music and wanting to explore the potential of video away from commercial venues, he started VJing with a number of electronic musicians in 2007, including Zein Abdelkafi, aka Hayej. He also worked with dancers and actors; his videos being the backdrop for their performance, like with Feriel Folla in 2007 in support of the anti-globalization movement. He experimented with software and wanted to go into video mapping. But limited resources and bureaucracy stood in his way.
"But sometimes limited resources at hand can make you look in directions you would not have otherwise," he explains. Ghazi began searching for a subject for his video projections, a person with whom he could literally incorporate the performative elements into his work.
Luckily, he met Marion, they immediately clicked – in fact they fell in love and got married – and started working together.
"We started filming together on the street with Marion as the subject. And after we went home, we would work on the footage to create a kind of filmed performance," says Ghazi.
In their early works, their collaboration was in the form of visual play attuned to music pieces by other artists and friends. In "1983," Marion's physical expression was combined with Ghazi's illusionary techniques, often manipulating the audience with the many layers.
The real breakthrough came, however, when they were invited in late 2010 by the Atelier D collective to create a performance in response to the Spanish classic "Don Quixote." In it Marion's shadow appears from behind a squared white screen and she begins to dance like a marionette hallucinating inside a box. But then Ghazi contrasts her shadow with a mesmerizing landscape that appears and disappears and continuously changes, affecting the space she has left in the box, both hers and her shadows which Ghazi also projects. To also mess around with the audiences' perception, Ghazi wore dark glasses and pretended to be visually impaired as he sat among the audience and VJed live.
"Don Quixote was the real beginning," says Marion. "We were both creating. We thought and constructed everything together."
That was their first work with shadow play and allowed them to combine and experiment with their interests in music, performance, video and story telling. They would discuss the various ideas they had in response to a story or even experiment with visuals they found interesting to try and develop a story from that, constantly trying different combinations until they agreed on a final format, which was also often tweaked spontaneously during the live performance. If either one feels inclined to try out something new during the performance, they go ahead, and the other is able to play off it. And while they have been mostly using music by other artists as a soundtrack to their works, in their most recent performance "I'm Nobody's Shadow," they made the music themselves.
"We started with the visuals, while having a rhythm and structure in our heads, so when we came to make the music in the end, it easily came through in relation to the performance we had already created," says Marion.
They have since been pushing their collaboration further, trying different ways, with their performance scheduled in Cairo this week, promising that Marion will no longer be behind the screen.
The Frinis will perform a version of "I'm nobody's shadow" on 24 and 25 April at 4pm and 6pm, and on 27 April on 2pm and 7pm at the Viennoise Hotel, 11 Mahmoud Basiony St., downtown, Cairo.
This piece was originally published in Egypt Independent's weekly print edition.