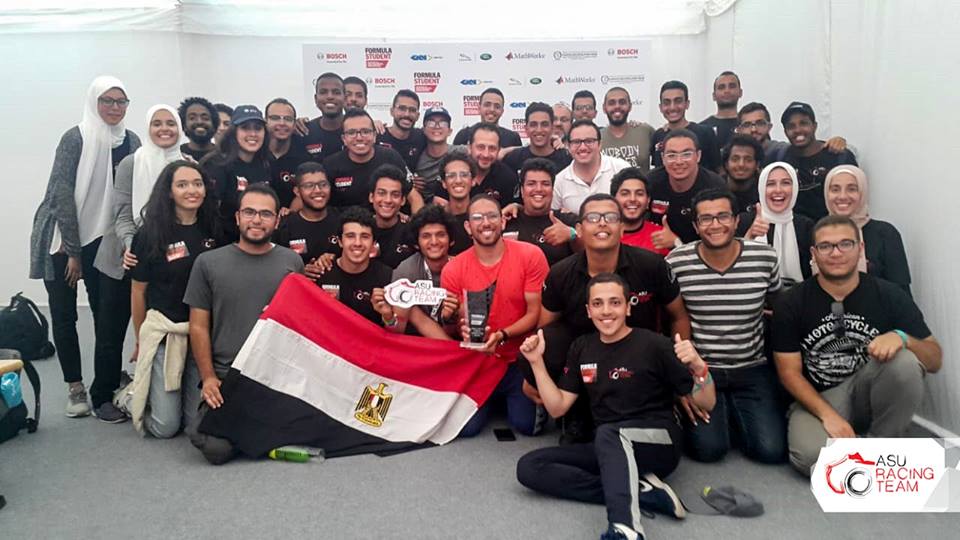 An Egyptian student racing team from Ain Shams University (ASU) has unprecedentedly clinched the cost and manufacturing award of the Formula Student Engineering competition in the UK, in a fierce contest with other prestigious universities from across the globe.
The competitions brings students from around the world to put their engineering skills to the test and design a functional small-scale formula style race car.
The ASU Racing Team participated in the competition with two sub-teams: Class 1 and Class 2. Both teams made several victories, as Class 2 won the second place award in the Business Logic Case (BLC) award and third place in design presentation, while the Class 1 team received sixth place in the BLC.
Both teams ranked 31st overall among 81 participating teams worldwide.
https://www.facebook.com/ASU.Racing.Team/videos/1837161599678602/
According to a press statement, the ASU Racing Team was established in 2011 under the supervision of a several lecturers and professors at the Faculty of Engineering at ASU,  alongside a group of aspiring and visionary students.
The team was the first African and Arab group to win the Formula Student Engineering BLC award in 2016, having ranked second a year earlier.
By 2017 and 2018 they succeeded to be one the best three BLC teams.
The ASU racing team was ready enough to participate in other dynamic events, such as racing at the famous Silverstone circuit in the UK, competing with other participating universities from all over the world and snatching the 28th place trophy.
The team also won the 14th place in the global Shell Eco Marathon contest, producing a completely electric vehicle, competing against several participating teams from the MENA region. They also won the safety award from the off-track list in 2017.
Based on scientific research, the team's ultimate goal is a better future for the automotive industry in Egypt, along with manufacturing the first completely fully Egyptian vehicle, racing ever closer to their goals.