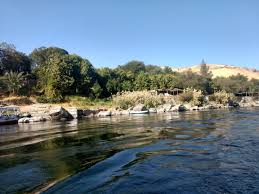 Minister of Agricultural and Land Reformation Ezz El Din Abu Steit and Governor of Aswan Ahmed Ibrahim launched the workshop "Role of the Botanical Garden in the Agricultural Development and Environment in Aswan," on Thursday as part of the environmental initiative "Tashgeer" in Aswan.
General Supervisor of the botanical garden and the initiative's coordinator Hesham al-Tayb clarified that the garden would participate in the initiative, which aims to plant 100 thousand trees in Aswan.
Director of the Horticulture Research Institute (HRI) Mohammed Gabr said that the institute planted seedlings suited to Aswan's tropical climate with aims of afforestation and increasing the beauty of the city.
Gabr added that the institute planted Camphor trees on canals and banks, and Olives, Casimiroa, Mango and Citrus trees in several areas.
Edited translation from Al-Masry Al-Youm