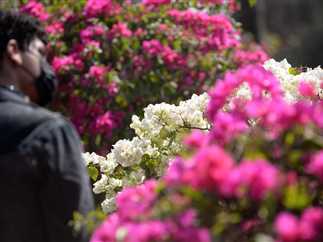 Minister of Agriculture and Land Reclamation al-Sayyed al-Qaseer, agreed, on Monday, to hold the 89th Spring Flowers Exhibition from mid-February until the end of March at the Orman Botanical Garden in Giza.
The Head of the Ministry's Agricultural Extension Sector, Alaa Azzouz told the press on Monday that Qaseer stressed on precautionary measures to protect exhibitors, visitors and workers from the coronavirus.
These include providing temperature measurement devices, and not allowing visitors to enter without masks, as well as providing disinfectants, and carrying out disinfection regularly.
The exhibition pavilions will be constantly sterilized and social distancing is applied, he assured.
Azzouz added that the second session of the Cairo Dates Festival will be held on the sidelines of the exhibition, pointing out to the formation of an organizing committee for the exhibition that includes specialists in the ministry and representatives of the exhibitors.