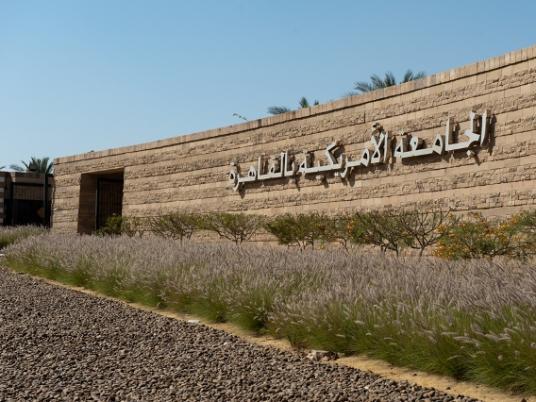 (Correction: The following story was edited on March 19 to modify AUC's ranking to 5th in the Arab region, not 2nd)
The American University in Cairo (AUC) has been ranked as the fifth best university in the Arab region and 365th worldwide, according to an annual ranking released by QS World University Rankings earlier this month.
The annual QS rankings rate the world's top universities using six different indicators: academic reputation, employer reputation, student-to-faculty ratio, citations per faculty, international faculty ratio and international student ratio.
AUC also got featured in QS report's subject rankings, where it ranked 51th university globally in the area of Development Studies. Although AUC is the only private institution in Egypt included in the QS ranking, other state universities made it to the subject rankings as well.
"Egypt is one of the 74 nations to see its institutions ranked, with its universities taking 18 places across the 46 tables – an increase from 11 in 2016. Cairo University, Egypt's top institution was ranked for 10 subjects and it generally ranked 10th in the Arab region," the QS world university ranking report said in a press release.
Ain Shams University ranked 12th in the Arab region, while Alexandria University ranked 14th.
AUC came fifth in the Arab region after King Fahd University for Petroleum and Minerals, which ranked 189 on the overall list, the American University in Beirut, which ranked 228th , King Saud University, ranking 227, and King AbdelAziz University, whichranked 283. They were however ranked ahead of other prominent MENA universities such as the American universities in Sharjah and Dubai.
AUC's global rank directly followed the George Washington University, Northeastern University and Virginia Tech, three prestigious US universities. "There are a lot of universities in the world; to be in the 300 band is extraordinary," said Ted Purinton, dean of the Graduate School of Education and an expert in international education, in an AUC press release. According to Purinton, AUC ranked higher than the University of Milan, the American University in Washington DC, Stellenbosch University, Brandeis, Wake Forest University, and Florida State.
"These are all top universities, all of which are widely known and very prestigious. Thus, I would say we should feel exceedingly proud of where we are now," Purinton added. While AUC's ranking has dipped down and back up again over the years, Purinton explained that there should be little concern over slight changes in a university's rankings. "Universities float around within bands of rankings for very minor issues," he said.
He added that if a university had a slight change in the number of international students or faculty members, most of the university's community will not feel the impact, yet its ranking score will noticeably change.
Ranking is an ongoing process of improvement and enhancement, noted Iman Megahed, executive director of the Office of Data Analytics and Institutional Research. "AUC's ranking reflects its institutional strength, which the university constantly aims to improve through continuous assessment and creating evidence-based change," she said.
Established in 2004, the QS World University Rankings evaluates only about 900 universities globally. In other words, only the top 3 to 5 percent of higher education institutions worldwide are included in these rankings.