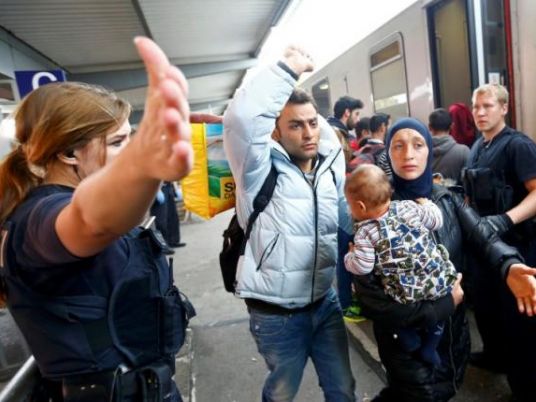 Austria should step up deportations of people who do not qualify for asylum, Chancellor Werner Faymann said in remarks published on Saturday, striking a tougher tone on migrants as he comes under pressure from his conservative coalition partners.
Hundreds of thousands of people, many of them fleeing conflict and poverty in the Middle East, Afghanistan and elsewhere, have entered Austria, the last country on the way to Germany, since early September.
Only a fraction of those people, swept up in Europe's worst migration crisis in decades, have applied for asylum in Austria rather than continue their journey into Germany, but the country has struggled to provide them with suitable accommodation.
"We cannot pretend that all refugees actually have grounds for asylum," he said in an interview with newspaper Oesterreich, extracts of which were released on Saturday ahead of publication in Sunday's edition. "Therefore we must intensify deportations."
The term refugee is often used in German to refer to migrants in general, whether or not they meet the criteria for asylum, such as having fled conflict or persecution.
Austria has received 85,000 asylum applications this year, an Interior Ministry spokesman said. Austria has said it expects roughly 95,000 applications this year, more than 1 percent of its population, compared with 28,000 registered in 2014.
Last year, 38 percent of applications were approved, the spokesman said.
Cabinet members from the conservative People's Party have said the country is reaching the limits of its capacity and that they hope new controls and crowd management measures at the border with Slovenia will discourage migrants.
The far-right Freedom Party, which is in opposition, has been gaining support by calling for measures such as building a fence around Austria to keep migrants out.
Faymann, a Social Democrat, has generally adopted a more compassionate tone on the issue than the conservatives but he has also emphasized that policy decisions have been closely coordinated with his German counterpart Angela Merkel.
At a congress of her conservative party this week, Merkel pledged to "noticeably reduce the number of refugees", fending off a challenge from critics of her own.
Oesterreich quoted Faymann as saying the situation would be "even more difficult" next year.
"At the moment there may be fewer refugees (arriving), but one should not confuse the winter with an improvement in the situation," Faymann was quoted as saying.
"Therefore we must prepare measures now so that we are not surprised in the spring," he added. The newspaper did not say what those measures were.
Germany and Austria are working on a proposal for a common European asylum law, Germany's refugee crisis coordinator said in a magazine interview published on Saturday.
(US$1 = 0.9206 euros)