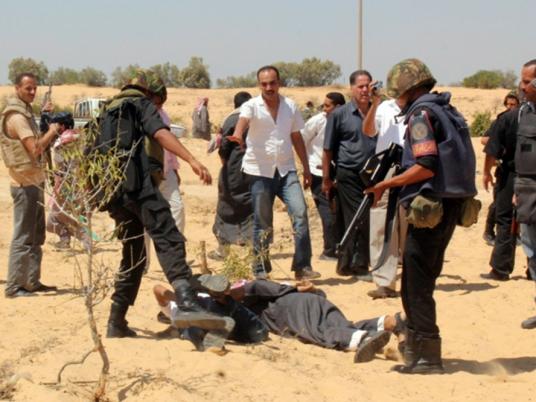 The Armed Forces arrested 15 people on Tuesday accused of being members of a militant group that illegally brandished assault weapons and marched parade-style through the North Sinai cities of Rafah and Sheikh Zuwayed two days ago.
In a statement published on the Interior Ministry's official Facebook page, officials say more than 50 members of a Salafi jihadist group from Egypt and Gaza participated in the marches.
According to reports, the group paraded through the streets driving SUVs and carrying automatic weapons.
Unnamed sources close to military said the Armed Forces will not have mercy on "terrorists in Sinai" or allow militants to wrest control of Sinai.
The military has set up more than 75 mobile and stationary checkpoints across the region along main roads to catch the rest of the Salafi group members.
The sources added that the Armed Forces is using novel technology and specially trained officers to track the militants and tap into their communications network.
Mohamed al-Menei, a sheikh in Sheikh Zuwayed, refuted the claims, saying a senior religious cleric had returned from Cairo, with his family shooting guns on the air to welcome him home.
Sinai has become increasingly restive since Hosni Mubarak was toppled in Egypt's 2011 revolution.
In August last year, gunmen suspected of being Islamist militants killed 15 Egyptian border guards in an assault on a police station at the border between Egypt and Israel.