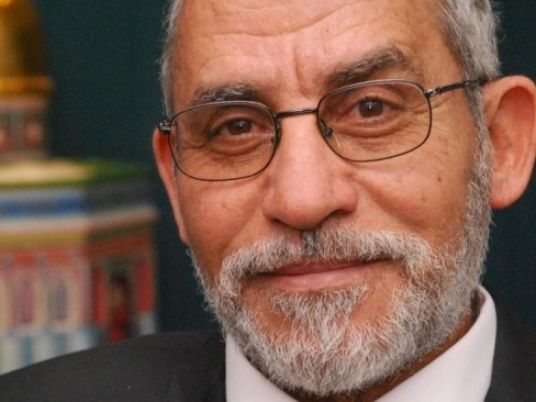 Cairo Appeal Court set 1 April for the trial of Muslim Brotherhood Supreme Guide Mohamed Badie and other 50 members of the group over charges of forming a task force to jeopardize state authorities in the aftermath of dispersing Rabaa al-Adaweya and Nahda sit-ins.
The trial will be reviewed by Giza Criminal Court, said Medhat Idris, head of Cairo Appeal Court's technical office.
The suspects were referred to criminal trial earlier in early February, according to Idris.
Public Prosecutor Hesham Barakat referred 32 of the suspects to Criminal Court. He also ordered arrest of the 19 fugitive suspects pending investigations.
Investigators argue that the suspects Badie and his deputy Mahmoud Ghozlan planned a scheme after 30 June revolution to create chaos in the country by breaking into police stations, state establishments, private properties, Coptic places of worshipping and setting them on fire.
The group also formed an operation chamber to follow on movements of its members and supervise the progress of its scheme. Investigations also revealed that they changed the place of the operation chamber in the aftermath of measures taken by the state upon the sit-ins dispersal so as not to be known by security services. Authorities also claim that the defendants fabricated photos of victims and injured among the protesters as well as preparing press releases in foreign languages to publish them at foreign media and local media centers such as the Rasd news network. The suspects are also accused of staging protests that include armed elements to hamper traffic and intimidate people.
Prosecutors also say that the suspects ordered the affiliated civil servants to set state establishments on fire, attack police establishments, steal their contents, carry out assassination operations against police personnel. They are accused of funding these elements financially and supplying them with ammunition.
Faced with the charges, authorities say the suspects confessed to joining the group, taking part in Rabaa al-Adaweya sit-in and carrying out orders.
During investigations, the suspect Gehad al-Haddad said that the group founded the National Alliance to Support Legitimacy to speak on its behalf. It used to hold rallies at the hall of Rabaa al-Adaweya mosque.
Edited translation from Al-Masry Al-Youm