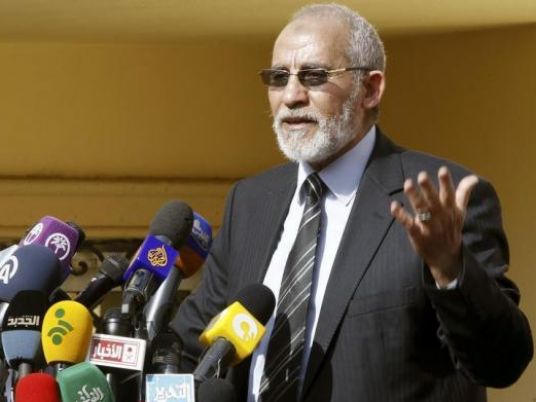 Cairo Appeals Court has set February 8 for the retrial of Muslim Brotherhood leader Mohamed Badie and 36 others over charges of plotting terrorist attacks.
The defendants standing retrial, 37 out of a total of 51, face charges of plotting to sabotage public facilities, churches and police stations as well as kidnapping public figures, with the plot's orchestrated from a "taskforce" stationed at the group's sit-in in Rabaa al-Adaweya Square.
The sit-in, which pressed for the reinstatement of former President Mohamed Morsi, was forcibly dispersed in August 2013.
Badie was previously sentenced to death in the case along with some other defendants, while others were sentenced to life. The Court of Cassation turned down the rulings in December and ordered retrial.
Edited translation from Al-Masry Al-Youm