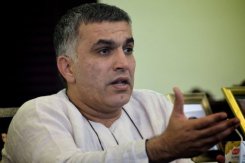 Bahraini Shiite rights activist Nabeel Rajab has gone on hunger strike, a local rights group said Saturday, just two days after he was briefly released from jail to attend his mother's funeral.
Rajab, 48, who is serving a three-year sentence for participating in illegal demonstrations, was allowed out of jail for one day to bury his mother.
After the funeral, Rajab was taken back into custody and barred from attending the three-day condolence gathering where friends and relatives pay their respects.
"In protest against this unjustified punishment, [Rajab] started a full hunger strike [on Friday]," said the Bahrain Centre for Human Rights (BCHR).
In a comment posted on Twitter, Bahraini rights lawyer Mohamed al-Jishi said "Rajab's hunger strike is an expected reaction since he's being denied his lawful and humane right to attend his mum's funeral."
Bahrain authorities say Rajab was barred from attending the condolence gathering because he "committed violations" at the funeral.
"Rajab was released briefly to attend his mother's funeral on humanitarian grounds," the authorities said in a statement, but he "violated the terms of his release and delivered a speech inciting mourners to stage illegal protests."
"Because of his actions, Rajab has had the privilege to attend further mourning gatherings revoked," the authorities said.
The BCHR said that Rajab called on mourners to "continue their struggle for rights and democracy," and argued his speech was a "peaceful expression of opinion."
The next hearing in Rajab's appeal is set for 16 October.
The courts have merged Rajab's three separate cases of "incitement and illegal assembly" into one single appeal.
The activist led anti-government protests following a crackdown on demonstrations against the Sunni Al-Khalifa regime in March 2011.
Bahrain continues to witness sporadic Shia-led protests that have often spiraled into clashes with police.
According to Amnesty International, since the protests first began in February 2011, at least 60 people have been killed.