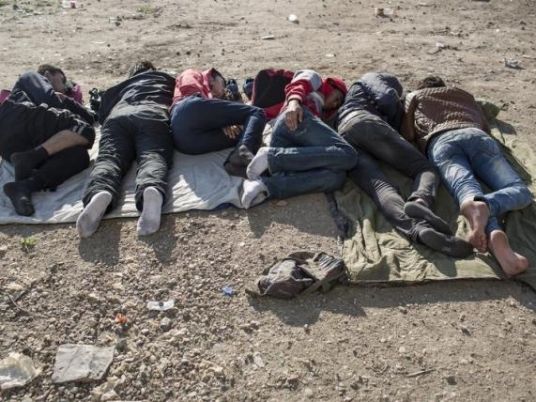 The prime ministers of Serbia, Bulgaria and Romania were to hold talks Saturday on how to tackle record numbers of migrants at the onset of winter, ahead of a mini-EU summit to discuss a coordinated response.
Serbia, Bulgaria and Romania are among the countries on the migrants' route from Turkey up through the Balkans to northern Europe.
Saturday's talks in Bulgaria's capital Sofia come a day ahead of a meeting of leaders in Brussels called by European Commission chief Jean-Claude Juncker, who has been urging a cross-border approach to the worst migrant crisis in Europe since World War II.
Hostility towards migrants streaming into Europe is mounting, with Germany on Thursday foiling an extremist plot to torch migrant shelters and Swedish police saying a sword attack on a school with many immigrant pupils was motivated by racism.
Most of the migrants — a flow of more than 670,000 coming into Europe this year, mainly fleeing violence in Syria, Iraq and Afghanistan — want to get to Germany, the EU's economic powerhouse.
Juncker on Friday said he backed German Chancellor Angela Merkel's open-door policy towards migrants, even though the welcoming stance has has threatened to cause a backlash, with the country bracing for up to a million asylum requests this year.
Juncker heaped praise on her on Friday, saying "I appreciate very much that the chancellor does not change course because of opinion polls".
"It is not a question of short-term popularity but the very substance of what politics is about," Juncker, who is hosting Sunday's talks, was quoted as telling the Funke-Mediengruppe press group.
But in a sign of possible friction ahead, the small Alpine country of Slovenia — a new hotspot in the crisis — warned it may build Europe's latest border fence to stem the tide of migrants unless it gets more help from the summit.
Growing hostility
In a sign of the growing stress on Germany, police in the southern town of Bamberg arrested 13 members of a far-right movement suspected of planning arson attacks on two homes for asylum seekers, prosecutors said Thursday.
Sweden is the EU's other top destination for asylum seekers, and police said an attack by a sword-wielding man, who killed two people at a school in the southwestern town of Trollhattan, was "racially motivated".
Sunday's summit in Brussels will bring the leaders of non-EU members Macedonia and Serbia together with the leaders of eight EU countries: Austria, Bulgaria, Croatia, Germany, Greece, Hungary, Romania and Slovenia.
"The past weeks have shown that there is no national solution to the problem," Juncker's spokesman Margaritis Schinas told reporters.
"Only a European collective cross-border approach based on cooperation can succeed."
According to German media, Juncker has drafted 16 proposals for Sunday's talks.
They include an undertaking that no country will let migrants through to an adjoining state without first getting the neighbor's agreement to do so.
He is reportedly also floating proposals to speed up expulsion of migrants who have been denied asylum and to withdraw the right of asylum to people who do not register their request in the first EU state where they landed.
With thousands more people arriving from Croatia on Friday, Slovenian Prime Minister Miro Cerar said he hoped Sunday's EU meeting would bring solutions but did not rule erecting a barrier along the 670-km (415-mile) frontier with Croatia.
"We are considering that option too but at this moment… we are still looking for a European option," Cerar told state TV late Thursday.
Ljubljana has asked Brussels for 140 million euros (US$155 million, 100 million pounds), in addition to police backup and logistical support.
More than 47,500 people have entered the country of just two million, since October 17 when Hungary shut its frontier with Croatia, barely a month after also closing its Serbian border.
Hungary had previously been the preferred transit country of migrants bound for Germany via Austria.
Meanwhile, a German law to tighten up asylum rules was published in the country's official gazette on Friday, enabling it to take effect on Saturday, a week earlier than expected.
In addition to accelerating the expulsion of people deemed to be economic migrants, the law will restrict the right of political asylum to exceptional cases for nationals from Albania, Montenegro and Kosovo.
Germany and other EU countries have also been pressuring Turkey, from where migrants fleeing conflict and misery in the Middle East and Asia set sail for Europe, to do more to stem the outflow.
Turkey's ambassador to the European Union, Selim Yenel, told AFP Friday that Ankara would only comply if the EU fulfilled several key promises, including three billion euros ($3.3 billion) in aid.