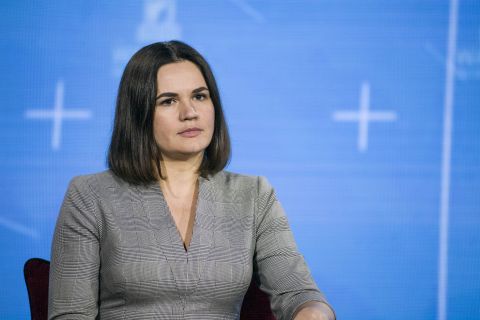 An opposition leader in exile from Belarus has demanded that President Alexsandr Lukashenko be held to account for his regime's complicity in the Ukraine war and for Russian soldiers to withdraw from Belarusian soil, after a CNN investigation revealed new evidence that the country provided medical assistance to injured Russian troops.
Russia used Belarus as a staging ground for its invasion of Ukraine in February, deploying troops and weaponry to its territory. A CNN report published Wednesday found that Belarus' authoritarian government also provided medical aid to Russian military personnel, who were secretly ferried to several civilian hospitals in the southern Gomel region and treated by Belarusian doctors operating under harsh surveillance.
Opposition leader Sviatlana Tsikhanouskaya, who has lived in exile in Lithuania since 2020, said that Lukashenko's regime had helped facilitate Russia's aggression against Ukraine – in violation of international law – and that CNN's investigation was further evidence of his complicity.
"This is important evidence of Lukashenka's crimes and complicity in the war. These testimonies, collected by CNN journalists, will help in the future investigation and bring Lukashenka to the tribunal," she said in a statement. "This is proof that the regime participated in and facilitated Russian aggression."
"But this is also a testament to the courage of those Belarusian doctors. They, despite threats and terror, recorded the truth so that Belarusians and the world would learn what Putin and Lukashenka are actually doing in Ukraine," she added.