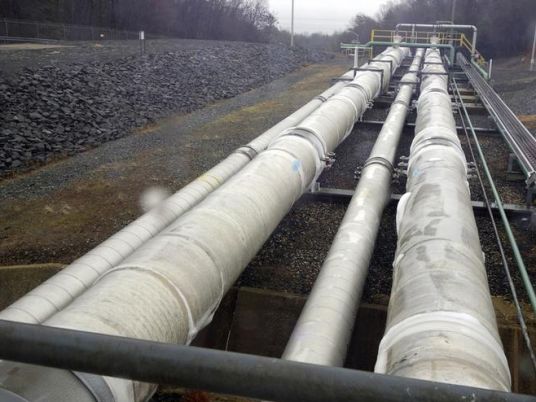 Britain's BG Group rushed in its new chief executive nearly a month early on Monday after reporting a $6 billion writedown last week that underlined the huge turnaround task he faces.
Helge Lund, Statoil's former CEO, will have to work against the clock if he is to replicate the success he wrought during 10 years at the helm of the Norwegian oil giant.
BG, a much smaller rival, has suffered dwindling gas reserves in Egypt that led to a profit warning last year even before the collapse in oil prices significantly devalued some of its other assets.
Making matters worse, those difficulties played out amid managerial turmoil: Lund's arrival makes him the third CEO in as many years and BG had no CEO at all for almost twelve months after Chris Finlayson departed post-profit warning.
Lund, who was initially due to start on March 2, will most immediately be judged on his ability to meet new production targets.
BG was forced to cut its production guidance three times over an 18-month period that resulted in last year's profit warning. It is now targeting up to 14 percent growth in output and 650,000-690,000 barrels per day in 2015 on the back of rising production at new projects in Brazil and Australia.
"If you look at the past several years, BG has run through about three different CEOs. Each one has been afflicted by overpromising and underdelivering," said Allen Good, senior equity analyst at financial advisory firm Morningstar.
ASSETS TO CASH
Experts are also looking to Lund to cash in some of BG's assets at a healthy price – something he did with elan at Statoil, turning the sleepy state-owned oil firm into a multi-billion-dollar international oil major largely by reducing its ownership of upstream assets.
BG has been reviewing its portfolio for over a year now in need to shed excessive costs. Analysts are eyeing parts of its LNG business, particularly in Tanzania, to go on the chopping block, along with a 50 percent stake in BG's Queensland Curtis LNG export plant, which could fetch $5-10 billion.
Equity analysts at Barclays Bank say they would like BG to speed up its disposal programme to above $3 billion per year but that may prove tough with oil prices down nearly 50 percent in the last year.
Underselling its assets would be as problematic for BG as not divesting them, but former colleagues say Lund is up to the task.
"He's a very careful player but he's got guts," noted Terje Halmo, a consultant to the LNG industry and former employee at Statoil, where Lund oversaw the sale of around $22 billion worth of Statoil assets in his last three years at the firm.
Shares in BG, which has lost a third of its value over the last three years, were up 0.7 percent by 1107 GMT on Monday after the news that Lund was already in situ.
LEADERSHIP
Whatever Lund does first, investors are hoping for early signs that he is in control of the situation.
"In a lot of ways establishing permanent leadership is the key thing (for Lund)," said Jefferies Equity Analyst Jason Gammel.
The new CEO has already accrued some goodwill by agreeing last year to halve his generous compensation package from the 14 million pounds originally promised to around 7 million a year.
Shareholders are now hoping he will show similar nerve in rewriting BG's future.
"Mr Lund now has a chance to define a vision," Barclays Equity Analyst Lydia Rainforth wrote in a note to investors.