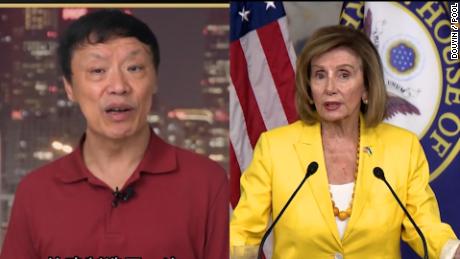 (CNN)President Joe Biden and his Chinese counterpart Xi Jinping held a lengthy and candid discussion about Taiwan on Thursday as tensions mount between Washington and Beijing, despite Biden's onetime hope of stabilizing the world's most important country-to-country relationship.
The two leaders did agree to begin arrangements for a face-to-face summit, their first as Xi resists travel amid the Covid-19 pandemic. And certain areas of cooperation, including climate change, were hashed out.
But the Taiwan issue proved among the most contentious. The issue has emerged as a serious point of conflict, as US officials fear a more imminent Chinese move on the self-
governing island and as a potential visit by House Speaker Nancy Pelosi prompts warnings from Beijing and a concerted effort by the Biden administration to prevent tensions from spiraling out of control.
The matter was discussed at length in the two-hour-and-17-minute phone call Thursday. Xi offered an ominous warning to Biden, according to China's version of events.
"Public opinion shall not be violated, and if you play with fire you get burned. I hope the US side can see this clearly," he told Biden, according to China's state news agency. The official English translation later provided by the Chinese Foreign Ministry said, "Those who play with fire will perish by it."
The White House's account of the call was less specific.
"On Taiwan, President Biden underscored that the United States policy has not changed and that the United States strongly opposes unilateral efforts to change the status quo or undermine peace and stability across the Taiwan Strait," a US readout read.
A senior US administration official called the Taiwan discussion "direct and honest" but downplayed Xi's warning, suggesting it was standard for the Chinese leader to warn about the risks of "playing with fire."
The phone call was Biden and Xi's fifth conversation since February 2021. Ahead of time, US officials said a range of topics — from the tensions surrounding Taiwan to economic competition to the war in Ukraine — were likely to arise.
But hopes for substantially improving ties with Beijing were low. Instead, Biden's aides hope maintaining a personal connection with Xi can, at most, avoid a miscalculation that might lead to confrontation.
"This is the kind of relationship-tending that President Biden believes strongly in doing, even with nations with which you might have significant differences,"
communications coordinator for the National Security Council John Kirby said this week.
As Thursday's call was concluding, the two leaders made note of how much work they had created for their teams, including arranging the possible in-person meeting. They have yet to meet face-to-face as presidential counterparts.