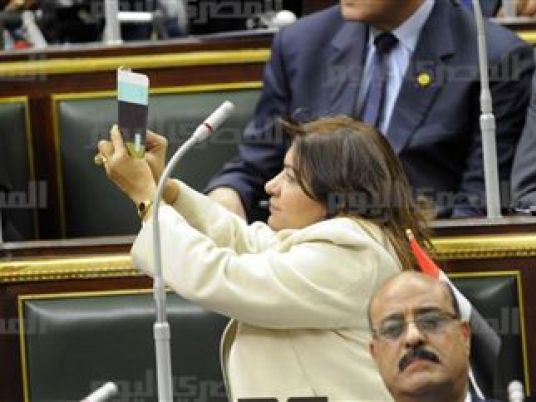 Egypt's 596-member House of Representatives held its inaugural session on Sunday, marking the final step in the roadmap announced following the ouster of the Muslim Brotherhood-led government in 2013. But the session was dominated by social media sarcasm following odd moments and blunders made by several MPs who became the focus of ridicule.
The catchiest and most talked about moment came from Zamalek Sports Club chief Mortada Mansour. The belligerent lawyer, known for his ardent support of President Abdel Fattah al-Sisi's government, refused to stick to the script of the constitutional oath, arguing that he could not vow to respect the preamble of the Constitution that honors the 2011 uprising against former President Hosni Mubarak, an event which he deems as a "conspiracy".
"It was an uprising that only brought the Muslim Brotherhood to power; a conspiracy against the country," Mansour, an outspoke opponent to the Brotherhood, told Al-Masry Al-Youm. "June 30 (2013) is the real revolution," Mansour said, referring to the protests that ousted the Brotherhood's government and brought Sisi to power.
After a lengthy argument with parliamentary speaker Ali Abdelaal, and the appeasement of fellow members, Mansour agreed to deliver the exact oath, but made a final remark to explain that his controversial oath reflected his personal beliefs.
Tadros Qaldas, a Christian MP, also made his own contribution to the script, opening his oath with "In the name of the one God," to which the speaker asked him to stick to the script.
Ahmed al-Sharif, an MP from the Salafi-led Nour Party, also caused a scene when he read his oath from a script he embedded inside a copy of the Holy Quran.
Ibrahim al-Qassas, an MP from Kafr al-Sheikh, ended his oath with "Long Live Egypt", a favorite mantra used by Sisi to close many of his speeches.
It seems some members could not wait to use their microphones. After some loudspeakers broke down, Bahaa Abu Shoqqa, an appointee who ran the session until the election of the speaker, urged the MPs to not click on microphones' switch-on buttons if it was not their turn to speak.
As the opening session dragged on, and became the longest opening session in Egyptian parliamentary history, some MPs became bored and diverted their attention elsewhere by logging into Whatsapp and Facebook.
Unaware that their microphone was open and that his voice would be heard, an unidentified MP leaned toward a female MP seated next to him, expressing admiration with her name by exclaiming "wow".
MP Sylvia Luis got a little angry when the speaker misspelt her name as "Slefia".
Another MP taken on by social media was Dina Abdel Aziz, believed to be parliament's youngest MP. Many social media users expressed admiration for Abdel Aziz, using flattering sarcasm, for being a soft-toned, good-looking and elegantly-dressed member whose low volume caused the speaker to think she did not respond to her summon for oath.
"Yes, sir, I am already here," Abdel Aziz responded to the speaker's call after having already begun delivering the oath.
A dispute was also broken up between speaker Abdelaal and MP Serry Seyam, a former president of Egypt's Supreme Judicial Council.
Seyam demanded Abdelaal to allow nominees for the posts of deputy speakers to introduce themselves equally with those who ran for the speaker's post. When Abdelaal refused, Seyam argued that the constitution granted the nominees equal opportunity.
"I know the constitution very well because I wrote it," Abdelaal, a former member of the panel that drafted the 2014 Constitution, replied.