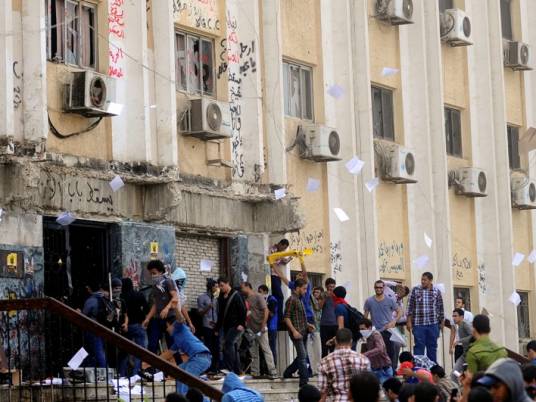 Giza security services discovered two bombs inside Cairo University on Sunday.
Brigadier Hesham Youssef, head of Giza explosives department, said they were able to defuse the two bombs.
A bottle with a suspicious liquid substance inside was also found and is currently being analyzed to know nature of the substance.
Universities have continued to witness clashes between security and students loyal to deposed President Mohamed Morsy and the Muslim Brotherhood.
Dozens of Muslim Brotherhood students from the Faculty of Law staged a march at Cairo University from the faculty to Dar Olum Faculty where they waited for another march to join theirs. The students were protesting against the dismissal of 23 students last week over involvement in riots.
The students chanted slogans against the military and raised the Rabaa al-Adaweya sign and Morsy photos.
Dar Olum Faculty students staged another march outside the faculty and chanted anti-military slogans.
Zagazig University security arrested six students affiliated to the Muslim Brotherhood over involvement in clashes that broke out on Sunday leaving 10 persons, including university security personnel, injured.
Brigadier Sherif Ragab, chief of the university administrative security, said six students had fireworks and were involved in riots inside the university. They were transferred to the Zagazig police station to take thenecessary measures against them. The situation inside the university became calmer after the protest was dispersed.
In related news, dozens of Muslim Brotherhood students in an Azhar University branch in Daqahliya staged a protest in front of the Faculty of Sharia to voice their demands to release their detained colleagues.
Students raised banners reading the names of the detained and calling for their release, the downfall of the military coup and the reinstatement of legitimacy.
Meanwhile, female students affiliated to the Muslim Brotherhood issued a statement condemning the attack by security troops against the university last week, assaults against female students and the firing of teargas and bird shot, which caused dozens of students to faint and left one with an eye injury.
The statement added that the attacks will not stop the students from continuing their revolution until the downfall of the military coup and release of the detainees.
Edited translation from Al-Masry Al-Youm