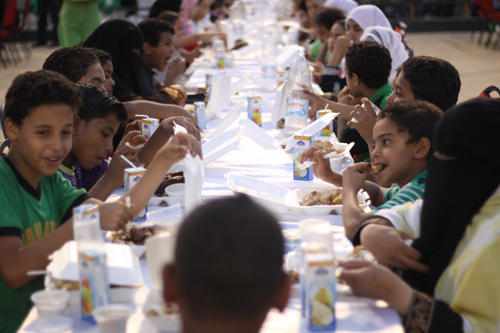 Some 300 orphans participated in an iftar hosted by the Rotaract Club recently, an annual event marking the Ramadan tradition of breaking fast and almsgiving.
Charity iftars are a common feature in Cairo, where by dusk, long communal tables set up under overpasses and on public streets throughout the city serve supper to the less privileged. But, in the case of the Rotaract-sponsored event, the youth leadership and service club of Rotary International invited children and their chaperones from five orphanages across Cairo to dine at the private basketball courts of the elite Gezira Sporting Club in Zamalek.
Before the call to prayer summoned the final evening prayers, the children sat patiently as 40 youth volunteers under 30 years old from five Rotaract chapters — Rotaract Tahrir, Rotaract Heliopolis Sporting Club, Rotaract Cairo Royal, Rotaract New Cairo and Rotaract Gezira Sporting — distributed Styrofoam box sets of roasted chicken dinners.
Many of the children were younger than 10, or below the average required age of fasting, usually set at puberty. Still, some of the younger children had fasted for the day.
When the time came to break the fast, the volunteers huddled around a separate table with separate dinner boxes and fast food takeaway, and the meal itself was silent.
"We come together as part of Rotary to do some charity work," a seasoned volunteer told Egypt Independent. But, when asked why they sat away from the children, she responded: "I think people feel a bit shy. That's it really."
Whether a misplaced afterthought or an organizational gaffe — whatever it was — the moment sheds light on the implications of charitable intentions, their expressions and actions and the inevitable tension that arises when charity feels like a one-way street and is merely an annual handout.
"At first, I didn't want to come today, because I felt like they [the volunteers] are here not because they want to but because they have to," says 14-year-old Donya. "But after, I felt different."
After dinner, impromptu races between the volunteers and the children were initiated as well as scheduled entertainment and games like musical chairs, traditional dance performances, and a visit from characters like Barney and Friends. While the festivities played on, a group of older girls including Donya and six of her "sisters" sat with Farah, a 22-year-old volunteer, to chat about their 'love lives'.
"We're too old for the games. We're interested in meeting new people and talking with older women," says Farielle, 14.
During the iftar, we broke the awkward silence and sat at the end of a children's table with five boys and their female chaperone, eager to speak and share. When we politely declined to eat and kept to our mango juice boxes, the woman insisted saying, "Only juice. No, that doesn't work," and continued to feed us from her share.
While eating a piece of chicken, Mostafa, a wide-eyed 10 year-old, drilled us with questions and asked us about life outside of Egypt, our religious ascriptions, whether we fasted or not and what our opinion was of Egypt.
By the end of the meal before challenging us to a healthy race, he asked for our names. But when we responded, he said: "No. What is your name on 'face'?"
The next day, he added us on Facebook.
This piece was originally published in Egypt Independent's weekly print edition.