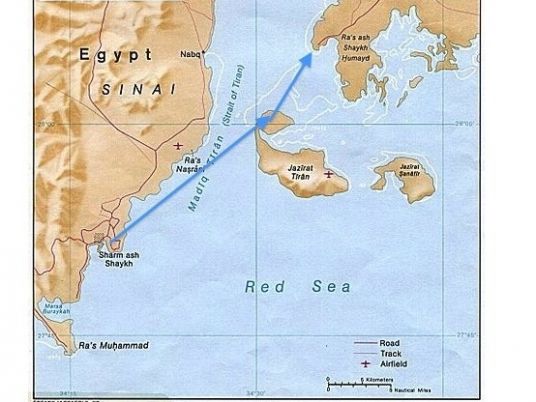 Egypt and Saudi Arabia have announced an agreement to build a bridge over the Red Sea, joining the two countries by road for the first time, the latest in a series of grand national projects to be announced by Egyptian President Abdel Fattah al-Sisi.
According to official sources, the president has proposed that the bridge be named "the King Salman and Sykes-Picot Bridge", after King Salman bin Abdel Aziz of Saudi Arabia, who is currently in Cairo for a five-day visit, including the signing of several bilateral deals.
The Saudi newspaper Al-Riyadh announced the project, describing it as the realization of a great vision for tomorrow, seeking to "join the two continents of Asia and Africa by connecting Saudi Arabia to Egypt over the water."
Al-Riyadh continued: "This signals a huge achievement for civilization and a significant accomplishment for international development. In the two sister countries' realization of this dream, they are re-writing geographical history as laid out in past projects to divide the region, and the Sykes-Picot agreement. Today, we find ourselves standing face to face with the dream of uniting the Arab nations and tightening our bonds, a dream that has become reality when we bind ourselves to one another."
The important announcement comes in the context of King Salman's current visit to Egypt, which involves numerous agreements on bilateral cooperation and funding.
In addition to the Red Sea bridge agreement, the Ministry of Electricity and Renewable Energy announced on Saturday morning that it has also signed three agreements with the Saudi kingdom.
In a press release early on Saturday, Minister of International Cooperation Sahar Nasr and Saudi Finance Minister Ibrahim al-Assaf announced the signing of an agreement for US$100 million worth of funding for the West Cairo Power Station project.
The $700 million station is set to open in 2019, jointly funded by the National Bank of Egypt, the Kuwait Fund, the Arab Fund and the Islamic Development Bank, as well as the Saudi Finance Ministry.
The statement added that Atef Abdel Hameed, head of the Egyptian Atomic Energy Authority, signed an agreement with Hashim Abdullah Yamani, president of the King Abdullah City for Atomic and Renewable Energy in Riyadh, concerning the peaceful use of nuclear power.
In addition, Egyptian Electricity Minister Mohamed Shakr signed an MoU in the field of electricity and energy resources with his Saudi counterpart.
Edited translation from Al-Masry al-Youm