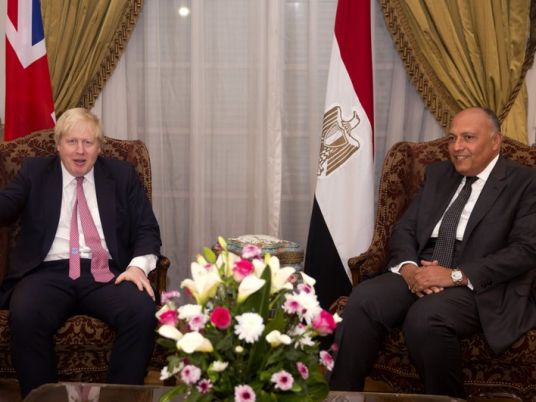 Britain finalized a US$150 million loan guarantee to Egypt on Saturday, where Boris Johnson was on his first visit to the country as Foreign Secretary and following a request from a human rights organization, urging him to speak about what they described as "appalling" abuses.
In a statement, the Foreign Office said Johnson and President Abdel-Fattah al-Sisi discussed British support for Egypt's economy including joint work on aviation security, counter-terrorism efforts, and work to resolve regional conflicts especially in Libya and Syria, adding that human rights and the benefits of a free society to promote stability and economic growth were mentioned.
"The UK and Egypt have many shared interests, we are Egypt's top economic partner and strong allies against terrorism and extremist ideas," Johnson said in the statement. "I look forward to continuing to strengthen the close relationship between our two countries."
Earlier, the human rights organization Reprieve urged Johnson to speak about the abuses it described, including the case of Irish national Ibrahim Halawa, who was 17 when arrested and imprisoned in Cairo in 2013. Halawa was detained in a mosque near Ramses Square as the Muslim Brotherhood held a "day of rage" over Sisi's ouster of his predecessor, the Islamist Mohamed Morsi.
Reprieve's Harriet McCulloch had implored Johnson to "urge Sisi to end these appalling abuses, and free Ibrahim and the many like him." No mention of Halawa was made in Johnson's statement.
Before the visit, Johnson said: "the UK is a champion of a renewed Egypt because stability, peace and growth in this region are the bedrock of opportunity and security."
Britain also pledged to boost university partnerships and teacher training, increase funding of economic development and social welfare programs, and increase funding new and existing social startups.
Egypt is undergoing painful economic adjustments as part of Sisi's economic reform measures, with inflation hitting 30 percent in January in a climate where state repression and mass arrests have blocked off most forms of dissent or opposition.
Johnson and his Egyptian counterparts did not make themselves available for questions by the media following the meeting.