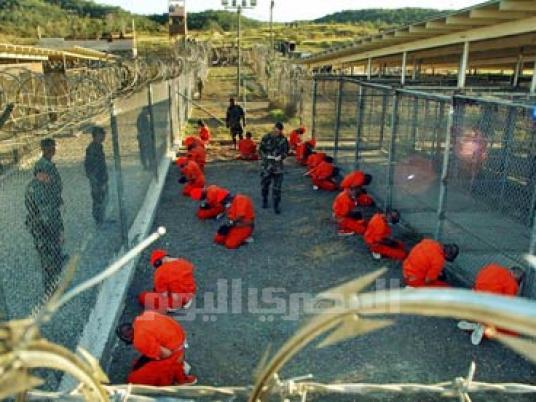 The last British resident to be held at the US prison camp in Guantanamo Bay has told a newspaper that British security officers witnessed him being tortured by American soldiers at Bagram air base in Afghanistan.
Shaker Aamer, a Saudi national married to a Briton, was suspected by US authorities of being an Islamist militant associated with Al-Qaeda but was never charged with any crime. He was released in October after 13 years detention at Guantanamo and has returned to Britain.
In an interview with the Mail on Sunday newspaper, Aamer said he was held in a cage at Bagram before his transfer to Guantanamo, and that his American interrogators had beaten him and deprived him of sleep.
"They were accusing me of fighting with Bin Laden in the battle of Tora Bora; of being in charge of weapons stores; of being a terrorist recruiter, though I'd only been in Afghanistan for a few weeks," he said.
"This American guy grabs me by the head, and he slams it backwards against the wall. In my mind I think I must try to save my head so I tried to bring it forwards, but as soon as I do he grabs it again and bashes it."
Aamer said a British officer, who he believed arrived at the base on a plane with then Prime Minister Tony Blair, was present in the room during the interrogation and did not intervene.
A spokeswoman for the British government said on Sunday it did not participate in or condone torture and was determined to combat it "wherever and whenever it occurs".
Former Scottish first minister Alex Salmond, the Scottish National Party's foreign affairs spokesman, said Blair and Jack Straw, who served as his interior minister and then foreign minister, had questions to answer.
"How could they possibly not have known about the fate that had befallen a British citizen?" he told the BBC.
"The prime responsibility of all governments is to keep their own citizens safe from harm and governments are not meant to collaborate on the illegal abduction and then the torture of one of their own citizens."