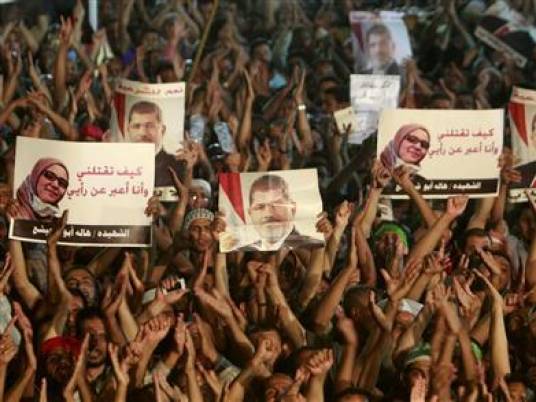 The National Alliance to Support Legitimacy has again called for demonstrations in all governorates on Friday to demand the return of deposed President Mohamed Morsy.
It urged demonstrators to stage protests in subway stations and public squares and outside mosques.
Marches are starting after the Friday prayers from the Al-Iman, Al-Salam, Al-Rashdan and Al-Rahman Al-Rahim mosques in Nasr city to Hejaz Square in Heliopolis, Istiqama Square in Giza, Rahma and Khatem Al-Morsalin squares in Haram, and Al-Aziz Bellah Square in Zritoun.
Youth of the so-called Metro Movement announced on Facebook that they would protest in several subway stations, while another group, calling themselves the 18 Movement, said it is marching to Rabaa al-Adaweya Square and the presidential palace.
The alliance also announced a campaign against the constitution in schools and universities this week, citing articles dealing with the right to demonstrate and the powers of the military.
Mohamed Hassan, spokesperson for the Jamaa Islamiya group, said the group is joining the demonstrations. "We will not give up our support for the alliance," he said. "But we will protest peacefully to avoid clashes."
Edited translation from Al-Masry Al-Youm