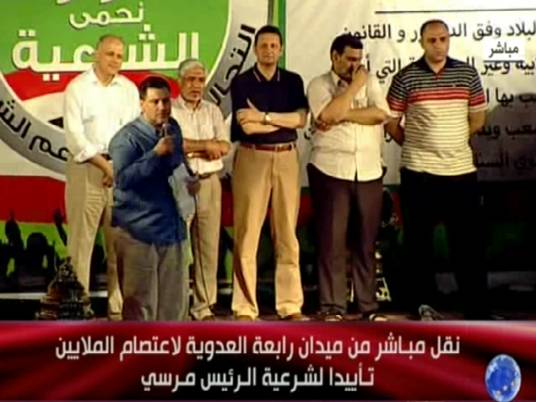 The Muslim Brotherhood has called for a million-man demonstration on Friday in support of toppled President Mohamed Morsy's legitimacy and to denounce the clashes at the Republican Guard headquarters.
The group called for marches from all mosques in Giza to Al-Nahda Square, and from the mosques in Cairo to Rabaa al-Adaweya Square.
"We will hold marches every Friday for President Morsy to be reinstated," said Brotherhood spokesperson Jihad al-Haddad.
For his part, Saad Emara, a leading figure of the Freedom and Justice Party, also said protests would continue until Morsy is reinstated. "We shall not negotiate with anyone," he said. "Negotiations should be with the elected president that they have detained."
"The arrest order for the group's supreme guide and other leaders on charges of inciting violence outside the Republican Guard headquarters is a crime against humanity," he said. "How can you arrest the victim and let the offender walk free?"
Emara demanded that interim President Adly Mansour and the military official responsible for the Republican Guard clashes be prosecuted.
"We are facing the disaster of a military rule that is fiercer than it was in the fifties and sixties," he added. "Where are the human rights organizations?"
He said that the new regime had unlawfully arrested more than 500 demonstrators. "One was tortured to death and thrown on Salah Salem Street in front of passers-by," he claimed.
He continued, "the announcement of charges against the supreme guide and a number of the group's leaders is a kind of pressure to break up the sit-in, and this will not happen until the return of the legitimate president."
"We have documented all the assaults we have suffered on video and in pictures," he said. "We will present them to the competent authorities for investigation."
Edited translation from Al-Masry Al-Youm