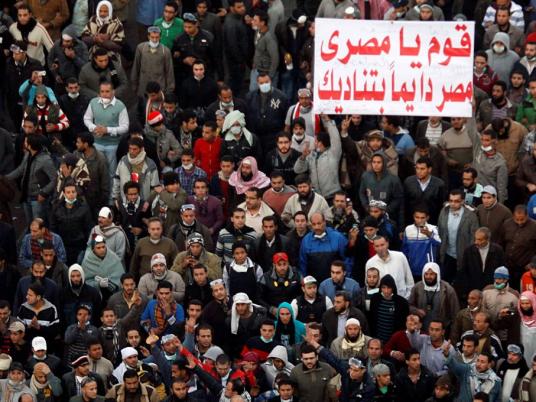 The Muslim Brotherhood on Tuesday asked the Interior Ministry to protect its offices and those of its political party around the country on the anniversary of the 25 January revolution from potential attacks by opposition forces, said a source within the group.
The group also requested that its young members be present at its offices on that day and provide security, but instructed them to restrain from clashing with attackers, the source, who spoke anonymously, added.
The source also said Brotherhood leaders feel the group's popularity was adversely affected by the clashes that took place between opponents and supporters of President Mohamed Morsy during demonstrations outside the presidential palace last November and December.
"We do not mind peaceful demonstrations in Tahrir Square," said Karem Radwan of the Freedom and Justice Party. "But we hope the interior minister would be firmer than his predecessor regarding attacks on our premises."
The National Salvation Front (NSF), the leading opposition coalition, has called on all Egyptians to take to the streets on the revolution's anniversary to protest against the newly approved Constitution.
In a press conference after the Constitution was approved, Hussein Abdel Ghany, the spokesperson for the NSF, said front leaders pledge to continue their peaceful fight against the new Constitution, which he said doesn't express a national consensus.
Several political parties and revolutionary groups said they would participate in the protests, including the Egyptian Socialist Party, which said it would participate in order to fulfill the targets of the revolution.
Privately owned Youm7 newspaper reported on its website that several marches will start from different areas of Cairo to congregate at Tahrir Square, the locus of the 25 January revolt, and the presidential palace in Heliopolis.
Widespread protests that started on 25 January 2011 eventually forced former President Hosni Mubarak to step down on 11 February.
Edited translation from Al-Masry Al-Youm