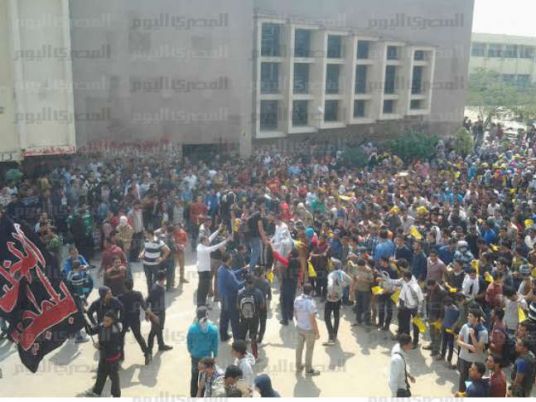 University students affiliated with the Muslim Brotherhood and supporters of deposed president Mohamed Morsy escalated their protests against police and private campus security on Monday to demand the release of detained colleagues and the reinstatement of dismissed ones.
ٍSince the start of the new academic year on 11 October, Egyptian universities have seen assaults by pro-Morsy students against Falcon Group, the private security company tasked with securing 11 Egyptian universities. Falcon has defended its operations against critics who accused it of failing to face the the demonstrations.
In Daqahlia, dozens of Brotherhood students invaded the the Faculty of Pharmaceutics, reportedly over claims that Falcon had assaulted a female colleague. The protesters smashed electronic gates and a motorbike owned by the company before destroying reception offices.
Security arrested 43 students following the incident. Wael Khafaga, head of Mansoura's emergency hospital said 11 students were hospitalized, including six campus security agents and five students
At Cairo University, violent clashes erupted between the residents of Manyal and police, on one side, and students on the other side after the students blocked the road outside the Faculty of Dentistry.
In Minya, pro-Brotherhood protesters besieged the office of the university's president, while the university's medical complex in Tanta witnessed hand fights and altercations between students and university security.
Edited translation from Al-Masry Al-Youm