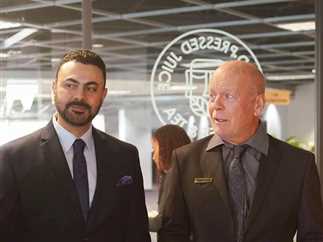 The production company of Bruce Willis' movie "A Day To Die", co-starring Egyptian actor Mohamed Karim, released the trailer of the movie, in preparation for its presentation around the world.
Karim awaits the release of the movie in the Middle East and Egypt soon. Karim appears in the trailer as a fellow officer of Bruce Willis, as they investigate a major case that gets them into many problems with dangerous gangs, leading to chases, exchanges of fire and explosions in the events of the film.
The movie is clearly a high-budget action movie, given the action scenes and high-cost bombings and chases in the movie.
'A Day To Die' is directed by Wes Miller and produced by Vertical Entertainment, Capstone Entertainment Group, Andrew van den Houten, among others, and written by Rab Berry and Scott Mallace.
This is the second starring of Karim in Hollywood as he succeeded in presenting roles far from the stereotypical roles that Arab stars always play in Hollywood.
He co-starred with Nicolas Cage's movie "A Score to Settle", which achieved great success in international cinemas, and currently is on international digital platforms.
The film revolves around a former member of a criminal organization. After serving 19 years in prison unjustly, he vows to punish his gang leaders, but the only thing preventing his violent plans is the development of his relationship with his son.
"A Score to Settle" is directed by Sean Coe, and written by John S. Newman.

https://www.instagram.com/tv/Cal_RRKj33x/?utm_medium=copy_link