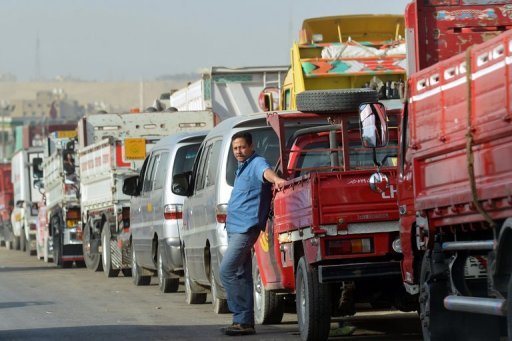 The Cabinet is planning more cuts to fuel subsidies soon, in accordance to an agreement with the International Monetary Fund on a loan worth US$12 billion, a Cabinet source said on Wednesday.
The Cabinet is putting the final touches to the suggested new rates, according to the source.
The suggested increase in the price of 92 octane fuel ranges between 8 and 12.5 percent, said the source, pointing out that the government ruled out the IMF's suggested increase of between 20 to 25 percent, which would bring prices in line with international fuel prices.
The Cabinet will likely postpone the cancellation of subsidies on diesel fuel because it is the category of fuel most consumed by citizens.
According to the source, 1 liter of 92-octane fuel costs the state LE4.5 and is sold to citizens at LE2.6.
The cancellation of fuel subsidies is a key economic reform, intended to contribute to an overall reduction in the general budget deficit, which currently stands at LE300 billion. It will also contribute in repaying the LE12 billion loan being offered by the IMF, said the source.
Authorities have announced a tightening of measures to crack down on black-market fuel sales, ahead of the new fuel rates, the source said.
The source also predicted an increase in the prices of gas cylinders and diesel fuel. Subsidized gas cylinders, sold to citizens at LE8, cost the state LE50, he pointed out.
The subsidies on petroleum products result in a monthly deficit equal to LE6 billion, according to the source.
A senior government official told Al-Masry Al-Youm that the government has not yet applied a range of other subsidy cuts required by the IMF agreement.
These include the gradual cancellation of subsidies on a number of commodities other than fuel. The subsidy cuts on some areas will be balanced by the allocation of funds to support subsidized goods for the poor as part of the government's social protection program.
The official, who asked to remain anonymous, said that measures agreed on with the IMF must be completed before November, in time for the first tranche of the loan.
The official said that energy subsidies cost the state's general budget LE35 billion, based on a US-dollar exachange rate of LE9.25.
Edited translation from Al-Masry Al-Youm