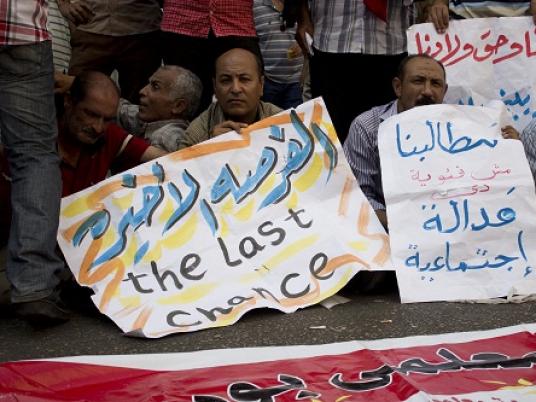 The Cabinet announced Thursday that it has secured $1.3 billion to increase salaries for teachers in response to a sit-in outside the Cabinet in downtown Cairo.
The teachers have protested for several days outside the building, threatening to go on strike at the start of the academic year on Saturday if their demands went unmet.
"The new system for secondary school afforded about LE500 million, and amendments to contracts with the publishing houses that print textbooks made another LE500 million available," said Education Minister Ibrahim Ghoneim.
Additional funds were also freed up as a result of plans to reduce certain costs, he added, noting that the ministry has secured LE1.3 billion out of the LE2 billion needed to increase salaries.
Some cost-cutting initiatives include using e-books rather than textbooks, which would cost LE5. "We are also considering a system that would allow students to return their books to the ministry at the end of the term so they can be reused," Ghoneim added. "The students will be motivated to keep their books in good condition."
Ghoneim threatened the ministry's administrative staff, which has been protesting for salary increases alongside the teachers.
"Any employee in the administration who announces a strike, even for a single day, that day will be deducted from his salary, as happened with the [EgyptAir] flight attendants," he warned.
Ghoneim briefly described planning for the new academic year, saying that preparations should not only include maintenance of school buildings, but should involve providing security and cleaning the surrounding streets.
"We coordinated with the interior minister on security, and the ministry will intervene immediately in security violations inside or around schools."
Edited translation from Al-Masry Al-Youm