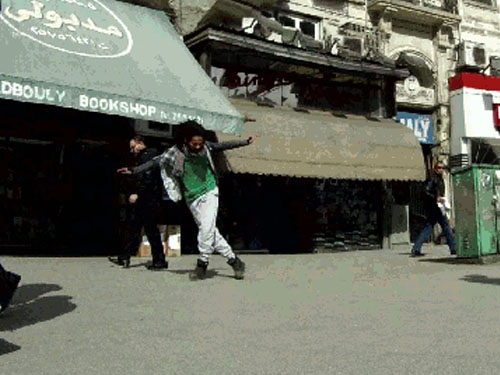 Imagine walking, though this is not your average leisurely stroll. You cannot walk in a straight line. You brush or bump into at least 10 shoulders within one block. You keep your eyes on the ground to avoid angry glares and your arms crossed to hide your body. You make every effort to be invisible, simply because you cannot deal with the streets.
This may not be your average leisurely stroll, but it is likely your typical walk through downtown Cairo. And while many Cairenes rarely stop to question why the public sphere has become increasingly riddled with human hurdles, a group of young Lebanese and Egyptian artists recently took to the streets to determine exactly that.
Cue, "Cairography" a video-dance project that seeks to better understand and test the limits of the body's ability to confront restrictions on Egyptian streets.
Written and directed by Lebanese artists, Dalia Naous and Kinda Hassan, "Cairography" is something of a crossbreed between performing arts and research, impregnated with a deep sense of reflection.
Both Naous and Hassan have been in and out of Egypt for years. And while neither has ever felt quite like a tourist, they have both always had a difficult time understanding the unique urban environment that makes up Cairo.
"The idea came about while I was living in Cairo in 2010," explains Naous. "Hassan was also here for a long stay, and we found ourselves getting into many discussions about how our relationship with our own body was changing due to the daily pressures faced on Cairo's streets."
With a Master's degree in Contemporary Dance, and a PhD on the way, Naous wanted to experiment and encapsulate these questions within a performance of some sort. Together with Hassan, who holds a Master's in Fine Arts and specialization in Video Art, the two began laying down the initial foundation for a research-based video-dance project.
"We wanted to better understand the limitations of our body in Cairo," explains Hassan. "Are these limits real or theoretical? Are they breakable? How far can we push these limits? We wanted to question the visible and invisible boundaries between public and the private spaces in Cairo."
For the better part of a year and a half, Hassan and Naous compiled research and testimonials ranging from strangers on the street, to local artists, dancers and friends living in Cairo.
Many of the testimonies involved sexual harassment, various social taboos, such as women smoking cigarettes on the street, and the lack of respect for personal or private space within public spaces in Cairo.
"We wanted to find a form that allowed us to interact with people in order to break the social pressure and surveillance that is present in the streets here," explains Naous. "And by surveillance I mean the lack of anonymity that one feels in Cairo — the sense that someone is watching your every move, particularly if you stand out in your physicality or dress."
With grants and funding from the Arab Foundation for Arts and Culture, the Culture Resource, and the Arab Digital Expression Foundation, Hassan and Naous were able to bring their idea into artistic fruition.
In January 2012, Hassan and Naous cast nine Egyptian dancers and performing artists to participate in a ten-day workshop, followed by five days of street performances and filming.
Working with local dancers like Nadine Emile, Samar Ezzat, Mohamed Fouad and Ahmed al-Gendy, the collective questioned what techniques could be used to determine the performer's relationship with the public. Often playing on the various details of proximity and of distance, they sought ways to cross over boundaries and continue their research in the public space.
For Naous, the project was not only about the public reaction, but more so, the transformation process that the dancers went through in order to perform their pieces on the street.
"At first, when I knew the performances would be in the street, I was a bit concerned about how the public would react," says Emile. "But I came to some revelations on the first day we hit the streets. I thought I would be really tense and paranoid, or that I would censor myself, but it was just the opposite. I had such a sense of confidence and a mission I was after, which I projected into my performance and presence on the street."
Using minimal motions with subtle rhythm, Emile realized that most passersby had no clue that she was even performing per say, and thus gave her the space to do her motions.
She says, "It told me a lot about the environment on the street. I learned that when people do not know exactly what you are doing and if they cannot see the cameras, they would not really approach you. It was almost as if they were scared that I was a crazy person, and often distanced themselves from me."
She believes that this fear of differences maybe a reflection of society at large, stating, "For decades now, Egyptian culture has never really been about finding your own identity or finding your own space — on the contrary, we operate more under communal ideals."
For Hassan, the project was also a lesson in the positive effects of "shock-culture."
"Something was proved correct to me in this project: when you shock your spectator [in a street performance], you have more of a chance of completing your act because the person who is watching you needs time to digest and adapt to totally unexpected information," she explains.
Hassan also believes that instead of dealing with the passive observations in traditional contemporary dance, the skeleton form used for "Cairography" helps to engage and interact with the audience in hopes of shocking them into reflection or action.
The project culminated this past weekend with a 17-minute video-dance screening at the downtown art space, 10 Mahmoud Basiouny. According to Naous, the duo collected close to 50-hours of video footage, but condensed the film to portray only the essence of their work.
The two-part video kicks off with a powerfully choreographed dance, featuring Naous and Marion Blondeau on a balcony, as their body movements react to a soundtrack of sexually harassing slurs and sounds. The dance portrays a clear and vivid depiction of how women typically react to this type of harassment.
Filmed with hidden cameras, the second part of the video shows a short montage of the various street performances, with snippets of testimonies and mixed reactions from spectators and passersby.
A notable scene comes into play when one of the female performers stands in a crowded square for some time smoking cigarettes. In an attempt to break the taboos put forth by Egyptian cinema, which often portrays the cliché scene of a prostitute smoking under the lamppost, the dancer faced no issues or attacks while smoking furiously in the square. On the contrary, she was left to smoke freely — at most, she received a few passing glares mainly from other women and, surprisingly, a little girl.
"You see it is these exact types of taboos that we have to break," says Hassan. "It is not about promoting smoking by any means, but rather, we are challenging the idea of self-censorship over taboos that make no rational sense."
Both Naous and Hassan believe that it is too soon for them to make any definitive claims on Egyptian culture or society, but they plan to continue their research, documentation, and performance experiences in hopes of making a feature-length documentary.
According to Naous, everyone plays a conscious or unconscious role in imposing the frequent state of censorship that we experience in Cairo. She says, "I find self-censorship to be one of the most dangerous things in society – whether you are an artist or a dancer or an average citizen, one must project a level of confidence within, and ownership of their public spaces."