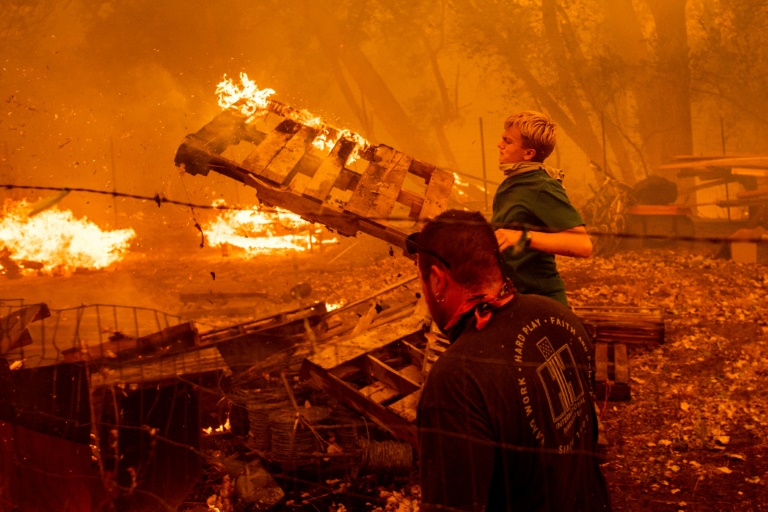 Thousands of firefighters battled relentless flames ripping across California on Wednesday, as the death toll from a series of infernos that erupted last month hit 11.
The raging Mendocino Complex fire comprising twin blazes in the state's north has now ravaged almost 300,000 acres (120,000 hectares) — approximately the size of sprawling Los Angeles — in less than two weeks, becoming California's largest wildfire since record-keeping began a century ago.
Some 14,000 firefighters, including reinforcements from as far away as Australia and New Zealand, are combating the firestorm which remains just 34 percent contained.
The River Fire of the Mendocino Complex is 78 percent contained, having burned 48,920 acres. But its partner blaze the Ranch Fire has grown to 243,772 acres and is just 20 percent contained.
"Still a lot of work to do," said Charlie Blankenheim, a chief of fire fighting operations. "But we have got a plan for all of it, we think that in a day or two we are going to have some success and start to wrap this up."
Limited access, heavy fuel loads, low fuel moisture and high temperatures were all impeding firefighters' efforts to rein in the conflagration, the state's CalFire authority said.
Overall, the Mendocino Complex fire has destroyed at least 143 structures, 75 of them residences. More than 11,000 other structures are threatened, according to CalFire.
The Ranch fire, which poses the biggest challenge, has swept across natural barriers like rivers, and a ditch dug with earth-moving machinery.
Helicopters and airplanes, including two massive DC-10s and a 747 jumbo jet, were supporting firefighters by dousing the flames with water.
Two people have died in that inferno alone, taking to 11 the number of people killed by major fires that are becoming something of a constant in the state.
The Carr Fire to the north has meanwhile engulfed 167,113 acres since igniting July 23, killing seven people so far.
Firefighters have managed to get it 47 percent contained, challenged by varying wind patterns and rough terrain that includes steep drainages. At one point, it even whipped up a tornado of orange flame.
Another major fire, Ferguson, has left two people dead and forced the closure of part of the Yosemite National Park. It is currently only 38 percent contained.
Several thousand people have been evacuated, although some have been given permission in recent days to return home.
The weather forecast for the rest of the week is for more hot, dry weather of the kind that helps fires spread.
The Mendocino Complex is the second fire to break records in California in as many years, following the Thomas Fire in December 2017 that destroyed 281,893 acres.
"This is part of a trend — a new normal — that we got to deal with," Governor Jerry Brown told journalists of the "horrific" wildfires.
Climate change effects
In the state's south near San Diego, hundreds of personnel were deploying to tackle the fast-moving Holy Fire in the Cleveland National Forest.
After igniting in a relatively small area on Monday afternoon, it mushroomed to 4,000 acres and is spreading, according to the US Forest Service.
Two other national forests in the counties of Los Angeles and Ventura were on high alert because of searing temperatures, strong winds and parched vegetation.
"If fire ignition occurs, conditions are favorable for very rapid fire spread," the National Weather Service warned in a statement, saying "extreme fire behavior" could "threaten life and property."
On Monday, the Pentagon said it would send 200 soldiers to assist firefighters in fending off the flames, many of which have encroached on federal lands.
Speaking from his New Jersey golf course, President Donald Trump paid tribute to firefighters and emergency crews.
"It's been a very tough situation taking place in California for a number of years. And we're going to have some meetings about it, because there are reasons and there are things you can do to mitigate what's happening," he said.
"We're deeply grateful to our incredible firefighters and first responders. They're really brave people."