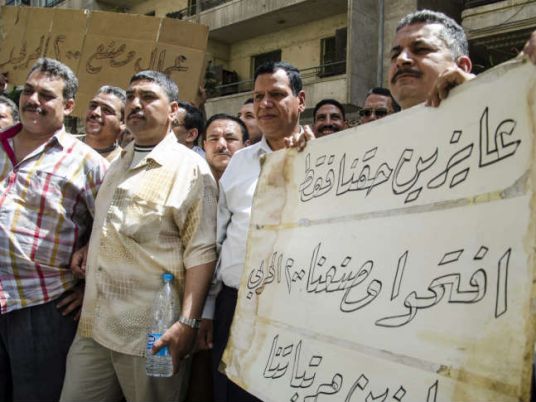 A labor freedom campaign has warned against the government's reported plans to issue new laws regulating labor and trade unionist freedoms in the absence of legislature and without public debate.
"Towards a Fair Labor Law" said the current is regime deliberately delaying parliament elections in violation of the constitution, which stipulated presidenial and parliamentary elections to be held within six months from its enforcement in January 2014.
"The current situation will not stand precipitation by the government in issuing laws on labor and trade unions without prior community debate by all concerned parties," the campaign said.
The campaign cited a number of laws under former interim President Adly Mansour which it deemed unfavorable to labor rights, such as law No.107\2013 regulating the right to protest and Law No.32\2014 which denied the right to challenge contracts signed between the state and investors except for parties to the contracts.
The statement said the two laws obviously "target workers who therefore have no right to challenge the sale contracts of the companies they had toiled for establishing" and are legally doomed to jail if they protest the sales.
The campaign also slammed a new amendment to the penal code recently approved by President Abdel Fattah al-Sisi, which criminalized foreign funding to civil society organizations. "The aim behind these amendments is too far from nationalist, for the Egyptian government is the biggest recipient of foreign grants. The real aim is to confine organizations defending the rights of workers, labors and the poor of this country."
The campaign called upon its founding parties and everybody interested in labor and trade union rights to unite in the face of what it labelled as an "imminent assault on workers rights" and the potential laws that "support investors and businessmen rights against workers."