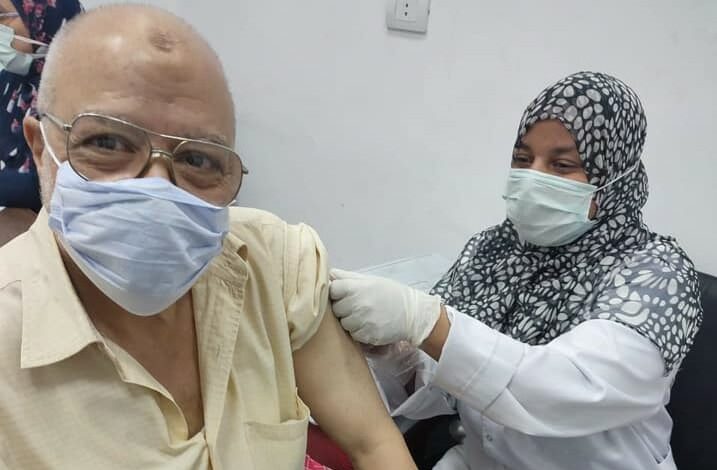 The Chairman of Cairo Association against Smoking, Tuberculosis and Lung diseases consultant Essam Elmoghazy said on Tuesday that the Omicron coronavirus strain is very severe and almost unrecognizable from the virus that first appeared in Wuhan.
Elmoghazy added that what helped the World Health Organization determine the situation of the new mutant is South Africa's transparency in announcing it as soon as it appeared, which led countries to take preventive measures such as banning flights from certain countries for a period of two weeks.
In statements to the Extra News satellite channel on Tuesday, Elmoghazy was unable to confirm whether a PCR swab is able to distinguish between Omicron and COVID-19, and whether currently available vaccines are effective in combating the Omicron mutant.
"The World Health Organization described Omicron as worrisome, but announced that a complete picture of the characteristics of the virus cannot be formed before two weeks pass, so what all we have now is to get vaccinated and follow precautionary measures until we can answer these questions," he explained.
An Immune and Allergy consultant at VACSERA Amjad al-Haddad revealed that groups most vulnerable to infection with the new mutation likely include age groups far younger than in previous strains.
"The previous mutant had a very strong ability to infect young people and children, and the mutation increases the ability of the virus to spread, so we expect the new variant to be able to infect children and young people more than the previous mutant."
Following precautionary measures remains the best way to halt all strains of the virus, he stressed, with the only differences in the mutations being the severity of the virus, transmission of infection and the effectiveness of vaccines.
He explained that so far, the symptoms of the Omicron mutant are the same as those of Delta and Delta Plus mutant, with the biggest risk being immune escape.
Haddad stressed that so far the mutated variant is under study according to the World Health Organization to ascertain the position of vaccines on it and whether they have strong, medium or no effectiveness in combating it.