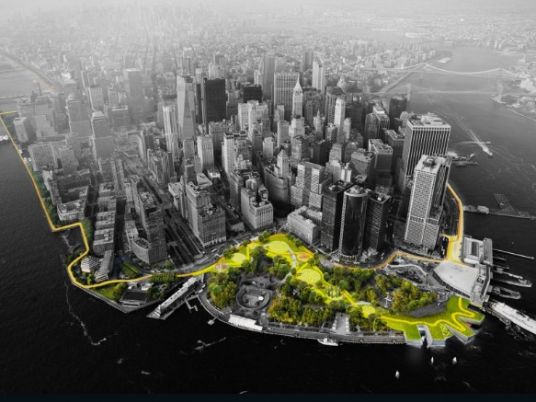 The destruction of New Orleans by Hurricane Katrina was heralded as a wake-up call for the US, a catastrophe that illustrated the scale of the threat from natural disasters, and the inadequacy of preparations.
But for all the earnest talk of 'learning lessons' that followed, no grand reform agenda was put in place to revitalize a city that remains devastated and deeply vulnerable.
Hamstrung by its position — much of New Orleans sits below sea level — ancient infrastructure and widespread poverty, the next disaster could be the city's last.
Hurricane Sandy underlined the urgency by ruthlessly exposing New York's structural weaknesses, paralyzing power, water and transport networks as the lights went off across Manhattan. California also suffered as historic droughts settled in, and the 2014 wave of winter storms terrorized the North, emphasizing that extreme conditions were here to stay and could strike anywhere.
This bought the US into line with the global situation. The UN's global risk report anticipates a record US$314 billion of damage through natural disasters each year, exacerbated by the effects of climate change such as rising sea levels and more common 'freak' weather conditions. The report also highlights a widespread lack of preparedness and "continuous mispricing of risk."
Responding to disaster
Of course, there are few easy answers to how to withstand a hurricane or ferocious drought.
Eye-catching novelties such as Vincent Callebaut's prefab coral reef design in Haiti, or Dan Nelson's tsunami-proof house offer originality but are difficult to scale.
A more grounded and systematic approach to resilience is beginning to emerge. Boston narrowly escaped a battering from Sandy but remains threatened by rising sea levels, and the city recently sought designs for a new age with its ground-breaking competition 'Living with Water.'
Creative solutions flooded in from floating parks, to charge basins that provide hydrokinetic energy, and protection through elevating the most important parts of buildings, such as power hubs.
Rebuild By Design, launched in the wake of Sandy to discover and implement resilience measures, has initiated wide-ranging projects worth almost a billion dollars across the Northeast. These include the 'Meadowlands' led by MIT that would cultivate natural buffers as flood defenses in New Jersey, while the grandest scale project would protect Manhattan with a re-designed waterfront including water-based social spaces, waterproofed buildings and additional bridges.
A bespoke solution is needed for each environment, says Amy Chester, project manager of Rebuild By Design.
"There is no one size fits all approach – every region is completely different. New York won't get a tsunami. For us hurricanes are a big threat, and we are looking at the immediate threat."
Chester believes that institution-led development must be combined with building resilience at an individual and community level.
"The first thing is shoring up property to withstand whatever comes at it. Communities are able to bounce back quicker if the water and electricity systems still reach them."
"We need a wider paradigm shift but we won't get there unless people are ready to make small choices, such as making home improvements a bit greener and reducing waste. We trade off working in public schools and improving infrastructure long term. We need public opinion and with incremental changes a tipping point arrives."
Rebuild by Design looked to the Netherlands for inspiration, which has always faced the threat of water damage and has been at the forefront of developing solutions.
'Out there' solutions
Dutch architect Koen Olthuis has pioneered an approach of building on the water itself, creating floating structures on a foundation of foam and concrete, using 'scarless' techniques that don't damage the environment. His designs are in development from a hotel off Norway to a community in the Maldives, and the concept of building islands has become popular around the world.
"The only limit is finance," says Olthuis. "Building on water is much easier than people think, it just needs a mind-set change — people have to see water as a threat but use it as an asset."
The concept has gone from 'freak architecture' to a practical necessity, he believes.
"Governments are starting to see the possibilities — it could bring safety and also create new spaces. Hong Kong, New York and London have no space left to build."
Amphibious solutions also offer greater flexibility, allowing for the possibility of temporary and mobile buildings. One striking suggestion is that Olympic stadiums could be transferred between host nations rather than each country bearing their enormous costs.
Ultimately, Olthuis' designs are in service of addressing equality and the communities most at risk.
"People with money can own places that are higher and drier, and people with less money are more threatened. By having this technology on a larger scale we can improve the safety of threatened places. The natural location to do that is places like the Maldives, where you can have a positive effect on the slums and change the DNA. In this way, you can use architecture to create a more fair society."
The Dutchman favors a joined-up solution that combines resilient structure with urban planning that best protects the vulnerable points, along with sustainable practices that can forestall future danger, and effective disaster responses.
Learning from the front line
Few nations have been so devastated as Japan in the wake of the 2011 tsunami, and fittingly it is Japanese architect Shigeru Ban that has led the field of innovative disaster relief, winning the 2014 Pritzker Prize for his structures across the world, such as the paper-based cabins used in the Philippines.
Ban stresses the importance of using local resources and local labor:
"Each time it's totally different…that's why I have to go there to find a specific solution. I'm using local materials, the traditional materials. It's too expensive to hire contractors, so I propose construction methods that can be done by the victims themselves."
Ban has broken the mould by valuing aesthetics and dignity in his emergency homes, painstakingly matching color schemes and facilitating privacy. Many of his temporary designs have remained in perpetuity and serve as models for adapting architecture to a dangerous environment.
"There are no boundaries between temporary and permanent," says Ban.
The US has much to learn from regions suffering the worst of extreme conditions in its efforts to formulate an effective, coherent response, says Rachel Minnery, Director of Built Environment Policy at the American Institute of Architects.
"For seismic risk, Japan is a beautiful example, as safety from natural disaster is a priority for them. When advertising new apartment, seismic safety is as important as the granite countertop. It's not that we don't do that now, but new construction is only a small part of the built environment."
Japanese buildings are now commonly base-isolated, so that the foundations can absorb a shock without toppling the structure, a technique that will be increased demand with new reports indicating a catastrophic earthquake threat to the West Coast. Minnery wants architects to work across disciplines with the construction industry, labor force, planners and policy makers to ensure that resilience has the funding and priority it requires.
There has been movement. The President's Climate Action Plan will mandate that states include climate hazards in their disaster mitigation plans, and Minnery is confident that the innovative resilience concepts will be adopted once they are proven, whether this means flood-proofing, seismic retrofits or building on water.
The agonizing concern is that such measures may arrive too late.