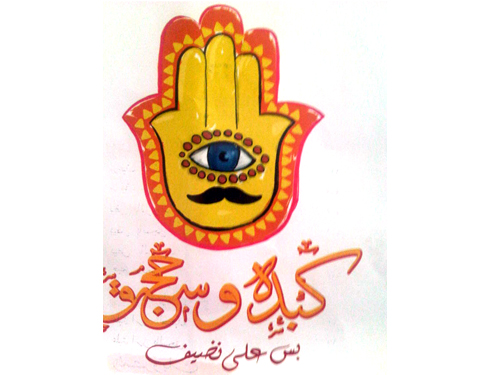 In an attempt to catch up with its trendy neighboring district, Zamalek, Mohandiseen has recently welcomed its first "street food" takeout restaurant, Kebda wa Sogo'e. The small eatery on Gamet al-Dewal Street caters to street food lovers.
At Kebda wa Sogo'e, which means Liver and Sausages, you can get liver, Oriental sausages, pastrami, baloney (bolobeef) and romy cheese sandwiches, all served in fresh shami, or Levantine-style, bread.
The sandwiches are small but dense and well-balanced, with the right quantity of meat for the bread, so that neither overpower the other. Each sandwich is a harmony of tastes, textures and flavors.
The liver is well-cooked with Oriental spices, while the addition of green peppers and tahina complete the strong tang of the sandwich. The Oriental sausages sandwich is steamier and juicier; the chopped meat is bathed in a thick, exceedingly hot tomato paste generously seasoned with pepper, chili and onions. The blend of tastes is succulent, strong and almost mouth-numbing.
Kebda wa Sogo'e also offers bowls of cooked rice with either liver or sausages upon request. Survive the spice by topping your meal off with a couple of tahina and cream sandwiches. Tahina is known for its cooling effect and is highly recommended; however, you can also go for a sweeter blend of honey and cream.
As with all cart food, the sandwiches are inexpensive. Two halves will cost no more than LE4.50, while the rice orders can cost up to LE10. Beverages are simply water and soda, which are more than enough for this sizzling meal.
The place is smart and has a clear message: clean, risk-free street food. A number of new restaurants around town have taken a similar path — Zooba, Cairo Kitchen, Khamsa Kebda and Asli all bring Egypt's traditional street and home-cooked foods to the commercial world in shiny packaging.
The food is tasty and clean though the menu could benefit from some additional side dishes such as French fries or a green salad. All sandwiches also come with Oriental pickles.
Kebda wa Sogo'e; Address: 71 Gamet al-Dewal St., with a second location in Hyper One, Sheikh Zayed; Hours: 11 am to 4 am.
This piece was originally published in Egypt Independent's weekly print edition.