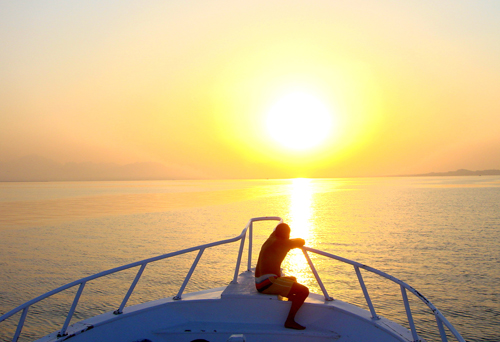 Political instability has taken its toll on the tourism industry since the 25 January revolution. The continued security vacuum and the border attacks in Sinai this year have added to the woes faced by the once-thriving sector.
According to the chairperson of the Chamber of Travel Companies Hossam al-Shaar, the tourism sector is losing US$300 million every week. The industry has a workforce of millions and is one of the nation's largest sources of foreign currency.
Sinai has suffered a sudden, dramatic decline in tourist numbers this year, says Mona Hegazy, sales manager at a travel agency, attributing this to weak security.
"Sharm el-Sheikh used to enjoy the highest demand in the east coast of the Sinai Peninsula, but it has seen a sharp drop in revenue in comparison to last year," says Hegazy.
"Anarchy and the absence of police personnel cause foreign travel agents to cancel reservations, as well as to freeze contract renewals for the coming seasons."
Masked assailants attacked the North Sinai town of Rafah on 5 August, leaving 16 Egyptian border guards dead and at least seven injured, adding significantly to security concerns. Earlier, the Israeli raid on the Egypt-Israel border, in which six Egyptian security and military personnel were killed as Israel pursued militants, was another blow to tourism.
Mariam al-Attar, a senior tour operator, says the rapidly deteriorating security situation in Sinai has scared holidaymakers away from Taba, Nuweiba, and Dahab as well.
"Hurghada is the new Sharm el-Sheikh," says Attar. "Hurghada witnessed a surge in the number of visitors this year as the situation is more stable there. The city offers similar entertainment, but it is still not enough for tourism to recover."
Ain Sokhna, about an hour outside of Cairo, became another alternative destination. Ahmed Arafa, a father of two young girls, says this year he preferred to travel to Ain Sokhna rather than his usual vacation in Sharm el-Sheikh.
"I no longer feel comfortable letting my daughters move around alone in these unsafe cities," says Arafa. "Ain Sokhna is a lot safer now because we spend the vacation at the hotel or its surrounding facilities, away from the crowded markets and coffee shops."
However, the "catastrophic losses," as Attar puts it, of tourism-related revenue, have not only been caused by fewer tourists but also Egyptians choosing not to holiday within the country.
"Some holidaymakers chose to spend their vacation this year in Middle Eastern destinations, including Turkey and Lebanon, over Egypt's Red Sea cities," says Attar, explaining that Middle Eastern countries provide tempting offers at approximately the same rates.
Egyptian travelers are reluctant to spend their vacations in the country for a number of reasons.
Hesham Moatez, 43, an accountant, believes that road hazards pose a serious threat to his family's safety.
"I used to take my family to Dahab during mid-year vacations, but it is so risky now to drive on the highway, we keep hearing about incidents of robbery and kidnapping," Moatez says.
Imposing tight security measures in Sinai and on the border, according to Saeed Maghwary, former dean of the tourism faculty in Monufiya University, is the key to getting tourism back on its feet again.
"The Armed Forces in Sinai and the Interior Ministry should work hand-in-hand to adopt effective mechanisms to prevent any potential border attacks and suppress any violence and chaos," says Maghwary.
Maghwary also suggests that media and Egyptian embassies in foreign countries should play a vital role in enabling the sector to flourish by presenting a positive image of the country.
"Egypt should launch intensive campaigns to convey that it is capable of welcoming tourists from around the world, and that the problem of security is only limited to certain areas in the country," Maghwary says.
According to figures released by the Tourism Ministry, the country received 6 million vacationers this year, 9.8 million in 2011 and 14.7 million in 2010.
Despite the slowdown, Hegazy ends on an optimistic note expecting a rise in the number of tourists at the end of next year if the country stabilizes.
"There is a slightly increasing demand, especially with Coptic Christmas and mid-year vacations approaching," says Hegazy.
"The country cannot restore stability overnight. Maybe this year was a tough one, but indicators show that there is a ray of hope in the future."
This piece was originally published in Egypt Independent's weekly print edition.