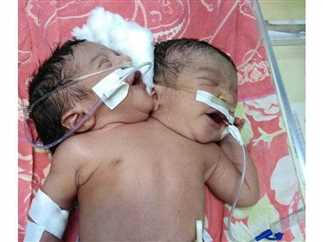 The city of Kom Ombo in Aswan witnessed the rare birth of a baby with two heads, one body and one heart by a 26-year-old woman.
The woman was taken to her doctor Marwa al-Saghir in Kom Ombo, who performed on her a caesarean operation in her clinic to carry out the birth of the child whose condition was found to be rare as he was born with two separate heads, a body, two vertebrae, and one heart and intestine.
The infant was taken to Kom Ombo Central Hospital and placed under observation.
Dr. Mohamed Ghalab, director of Kom Ombo Central Hospital, said that the child was placed in the hospital after his health was fully checked. He was later transferred to an Assiut University Hospital.
Dr. Ehab Hanafy, Undersecretary of the Ministry of Health in Aswan, said that all aspects of care for the child were provided from the time he arrived at the hospital until he was transferred to Assiut. He pointed out that the child is a rare condition that requires special medical care.
Edited translation from Al-Masry Al-Youm