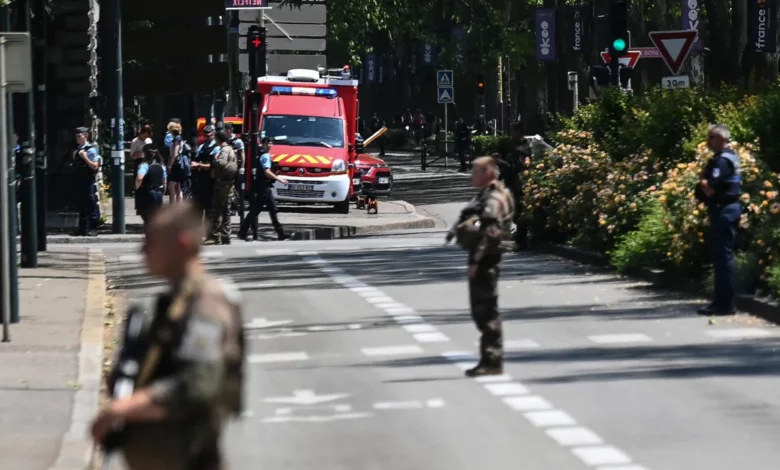 CNN
 —  Children were among six people injured Thursday in a knife attack in Annecy, in southeast France, triggering a wave of panic in the small alpine town.
Four children sustained wounds following the incident, according to the prefecture of Haute-Savoie. All of those injured were taken to hospital.
"Emergency services and security forces intervened very quickly," a statement from the prefecture said.
Local authorities said earlier that at least eight people had been injured.
A male suspect was detained in connection with the attack. He was slightly injured but did not need hospital treatment, local officials said.
French Prime Minister Elisabeth Borne will travel to Annecy with Interior Minister Gérald Darmanin on Thursday, according to the interior ministry.
One eyewitness, Ferdinand, told CNN affiliate BFMTV that the attacker was "repeatedly hitting" passersby with a knife.
"He jumped (in the playground), started shouting and then went towards the strollers, repeatedly hitting the little ones with a knife," Ferdinand said.
"Mothers were crying, everybody was running," said another eyewitness, named George, according to Reuters.
French President Emmanuel Macron said "the nation is in shock," following the attack.
"Absolute cowardice this morning in a park in Annecy. Children and an adult are between life and death. The nation is in shock. Our thoughts are with them, their families and the emergency services," Macron tweeted.
Health Minister François Braun tweeted that his thoughts were with the victims of the knife attack. "All my thoughts go immediately to the people injured by an individual armed with a knife in Annecy, and to their loved ones," Braun tweeted.
"I salute the rapid mobilization of the emergency services to take care of the victims, and notably the Urgent Medical Aid Service (SAMU)."
The mayor of Annecy, François Astorg, asked residents to avoid the area where the knife attack took place to ease the work of authorities.
"Appalling attack this morning on the Pâquier in Annecy. All my thoughts to the victims and families," he tweeted. Astorg said he would be addressing the public Thursday afternoon, along with representatives from police and the local prosecutor's office.
Lawmakers in the French National Assembly observed a minute's silence for those injured in the attack.
CNN's Catherine Nicholls and Amy Croffey contributed reporting.