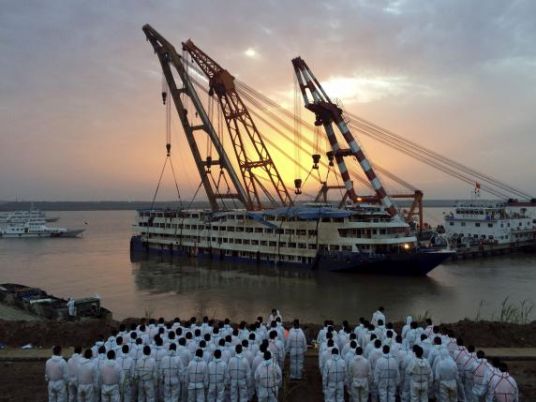 The death toll from a Chinese cruise ship which capsized during a storm in the Yangtze River jumped to 396 on Saturday, leaving fewer than 50 still missing, as the boat operator apologized and said it would cooperate with investigations.
Only 14 survivors, one of them the captain, have been found after the ship carrying 456 overturned in a freak tornado on Monday night.
Rescuers are searching the cabins of the four-level ship, which was righted and raised on Friday, looking for more bodies.
State television showed pictures of workers clad in protective gear and wearing masks prizing open doors with crowbars and using axes to clear away debris from the ship, which is being held up by cranes and wires attached to barges.
Jiang Zhao, general manager of the company which operated the Eastern Star, bowed in apology for the disaster during an interview with state media, saying they would "fully" cooperate with the investigation.
"From the very moment this happened I have been immersed in sorrow," Jiang told state television.
Beijing has pledged there would be "no cover-up" in the probe.
Police have detained the captain and chief engineer for questioning as part of the investigation. An initial probe found the ship was not overloaded and had enough life vests on board.
The disaster has now caused a higher toll than the sinking of a ferry in South Korea in April 2014 that killed 304 people, most of them children on a school trip. It is also China's worst shipping catastrophe in seven decades.
More than 1,400 family members have come to Jianli in the central province of Hubei, where the ship went down, with many expressing frustration at the lack of information from the government.
The government says that it is doing everything possible to help the relatives, including providing free accommodation and medical services, and on Saturday state television ran an interview with a tearful family member saying how happy she was with all their help.
Peng Jun, head of Hubei province's civil affairs bureau, told reporters the treatment of the families was "meticulous".
As for the crematorium, which some family members had tried in vain to enter to see the bodies of their loved ones, he said it had a reception center that would work with families.
Authorities would work to "satisfy their reasonable demands, and provide all conveniences to them", he said.
But relatives speaking to Reuters have expressed concern about security apparently being aimed at them, including the number of police cars parked outside of hotels where they are staying.
On Saturday morning, a daily government briefing for family members was cut short after an argument broke out with a representative of the local government. One woman was carried out of the briefing after she fainted.
"There is no information at all. Everyday we're here procrastinating, wasting time. There's no clear-cut answers, there's no progress to inform us of," said Wang Shuang, 24, whose mother and uncle were on the boat.
The government is bringing in equipment to store the bodies, many of which are in an advanced state of decomposition, as well as DNA experts to help with identification.
In a sign of respect for the victims, state television will suspend certain programs and advertisements that "highlight celebrations" for the next three days, Xinhua news agency said.