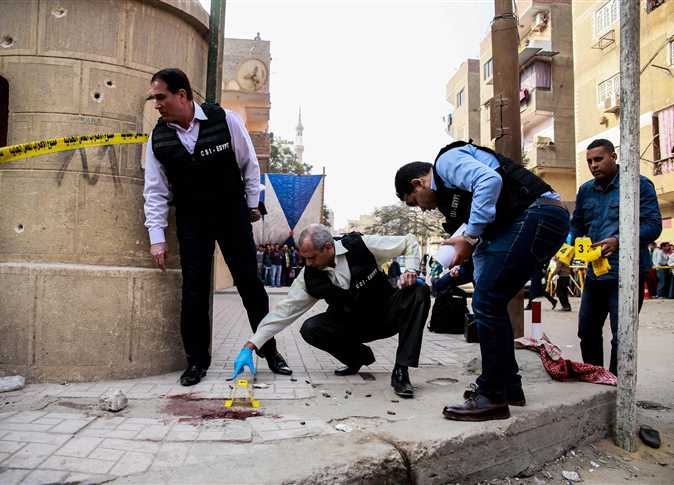 The Islamic State terror group claimed responsibility for Friday's attack on a church south of Cairo that left at least nine people dead, the militant group announced on Amaq news agency, according to Reuters.
The statement did not provide any evidence for the claim.
Nine people were killed and another ten injured in clashes after two armed militants attacked the Church of Saint Menas, in the suburban Cairo district of Helwan, said the Health Ministry's official spokesperson Khalid Maghed.
Prior to targeting the church, the same attacker fatally shot two people at a nearby shop, the Interior Ministry said.
The statement added that the militant attack took place on Friday morning when an unidentified militant using a motorbike attempted to break the security barrier in front of the church. The militant was trying to enter the church but was injured after exchanging fire with security forces stationed in front of the church. Another militant on a motorbike attempted to pass the security barrier and enter the church with explosives.
One of the attackers was identified by Egypt's Interior Ministry as a 33-year old man, called Ibrahim Ismail Mostafa, a worker at an aluminum company. He was previously involved in militant attacks against security forces, as well as crimes against civilians.
According to the ministry, he resided at Mansheyet al-Sadd street in Helwan but has been absent from his residence after authorities attempted to search for him. He previously hid in plantations in Upper Egypt, as he is believed to be one of the perpetrators of an attack on a police vehicle in 2016.
Mostafa was injured and arrested during the attack. The automatic rifle in his possession was seized by the police, as well as an improvised explosive device (IED) which he intended to blow up the church with.
Security forces had already imposed barriers in the area surrounding the church, as a measure for heightening security procedures during the Christmas and holiday period.
Despite of this, the militants targeted the church and killed nine people.
As an emergency measure following the attack, police and armed forces increased security and closed all churches inside the Helwan suburb.