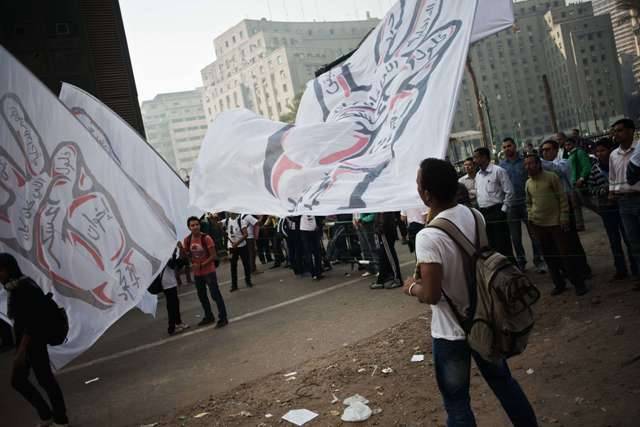 During the commemoration of the second anniversary of Mohamed Mahmoud Street clashes, verbal altercations erupted, then evolved into physical quarrels, between supporters of Defense Minister Abdul Fattah al-Sisi and groups of revolutionaries.
The revolutionaries raised banners and slogans against both the Muslim Brotherhood and the military rule, which angered those supporting Sisi and prompted them to chant "Sisi is my President."
Revolutionaries include groups from April 6 Youth Movement, the Revolutionary Socialists, and other individuals.
Tahrir square also saw intense security presence, especially at the entrances from the direction of Abdel Moneim Riad Square and Qasr al-Nil.
The revolutionaries put up banners at the entrance of Mohamed Mahmoud square saying that the street does not allow entrance to "Muslim Brotherhood members, Military and remnants of Mubarak regime."
Mahmoud Morad , a member of April 6 Youth Movement told Egypt Independent, "two years have passed since the [death] of our brothers and friends in the freedom eyes street [Mohamed Mahmoud] without retribution."
"The Ministry of Interior is fully aware of the perpetrators of the massacres in the first and second events [2011 and 2012], and refrains from punishing them," he added.